AUGUST, 2007: These five pups were dumped at the Carson (California) Shelter by the SAME OWNER!!! The three top row boys are thought to be littermates and 5-6 months old. The little girl and the fourth boy are also though to be brother and sister from a different litter--they about a year old.

We are desperate to help them get out of the shelter and to Arizona and safety. We need funds to bail them out, funds to pay for their transport to Arizona and funds to pay for their time in boarding until we can find foster space for them. CAN YOU HELP???

UPDATE 8/15: Thanks to your generosity and support, the Carson 5 will be in Phoenix today! Winter's foster dad, Doug, is picking them up at the shelter this afternoon and should arrive in Phoenix between 9 and 10 o'clock tonight. Our appreciation goes out, not only to Doug, but to the others who made this possible. Evvy (at Carson shelter) who brought our attention to these kids; Maria (a volunteer with German Shepherd Rescue of Orange County), whose rescue agreed to front us the bail out fee for the kids; Karen (also with GSROC) who is going to the shelter this afternoon to meet Doug and help him load up the kids; to Pat, our friend the "Dog Lady," who has offered the kids a safe haven for a few days until foster homes can be arranged for them; and, of course, to those of you who gave your financial support to make all of this possible. We could not have done it without YOU!!

Evvy reported last night that all the kids had come through their surgeries just fine. The boys are sweet and took things in stride. The little girl, however, is still petrified. Doug has agreed to take this little girl on as a foster. THANK YOU, DOUG! At least he and Wendy won't suffer from "Empty Nest Syndrome" when Winter goes to her new home next weekend.
Evvy's report on rescue day: The boys did pretty good but every last dog eventually had to be picked up and carried because the were simply overwhelmed out in the big world. But once back together - these dogs clearly LOVE each other. And even our super scared young female had to be carried and once she was back with her brothers - clearly relaxed...which I must say was so rewarding to see - because that utter fear was no longer in her eyes.

...They are so young that they will be fine!! And I must say for all their fear - they are not inclined to bite at all - we really stressed them by moving them and they hung in there without a peep. They are beautiful and I am grateful to everyone who helped in this amazing rescue.
Waiting for rescue:

UPDATE 8/15 @ 2:48 p.m.: THE KIDS HAVE MADE IT OUT OF THE CARSON SHELTER!!!!!

Doug's vehicle "BEFORE"

Doug's vehicle "AFTER"
UPDATE 8/15 @ 9:48 p.m.: THE KIDS HAVE ARRIVED IN PHOENIX!!! It was very dark and complete chaos, but we unloaded all the boys and got them safely tucked in at Pat's; the little girl went home with Doug. We will follow up with additional photos in a day or two. For now, they are all safe.

| | |
| --- | --- |
| Nancy tries her hand at convincing the first little boy to come out of his crate | Katherine has better luck climbing into the crate with them! |
| | |
| --- | --- |
| Two unloaded so far | Doug helps unload a third |
| | |
| --- | --- |
| The fourth little boy needed a little coaxing... | ...but Katherine "convinces" him to come out and join his brothers |
| | |
| --- | --- |
| Some very thirsty puppies | Off to investigate their new surroundings |
Please check back for additional details and updates. These kids still have a long way to go.
FIRST FOSTER REPORT ON THE BOYS: Dog Lady Pat reports that the boys are still a bit bewildered, but not too shaken up to prevent them from coming up and taking cookies out of her hand. They are ravenous, and have gone through several days' worth of food in one. A quick trip to Pat's house this afternoon solved the food shortage problem, at least for now. One of the pups was trying to eat all the food and keep his brothers at bay, so he is now in a neighboring run and seems happy as long as he can see and exchange nose touches with his brothers.
UPDATE 8/18: All of the pups are slowly becoming more familiar with their new surroundings. The boys, of course, take comfort from having their brothers around them. We will soon be moving two of the boys to their new temporary foster home where they will be put on deworming meds (as a precautionary measure) and then introduced to the resident pack. After a few days, his brothers will join him.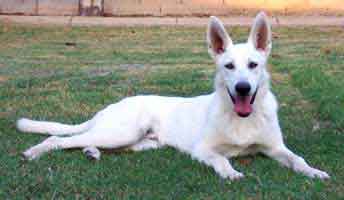 UPDATE 8/19: Two of our staff members went to Pat's to pick up two of the boys to bring them to their temporary foster home. They were overjoyed when they approached the boys' pen and they were jumping up on the gate, desperate to lick at our staff members' hands. Quite a change from the shy, stand-offish puppies that we had left with Pat just a few short days ago. They even tried to climb into the back of our staff member's vehicle for the ride to their new digs.
Once in their new home, the boys wasted no time in exploring and celebrating their new-found freedom. They approached us eagerly for treats and affection and spent quite a bit of time wrestling with each other. They were overjoyed to have a yard to play in and room to run. They were introduced to 2 members of the resident pack without any problems at all.
<!GINGER>
UPDATE 8/20: Doug reports that the little girl had a fantastic time up north in the pines this past weekend...with only one slight misadventure. While sitting on their new cabin deck, enjoying the peace and solitude of a quiet starry night, Doug and his wife, Wendy, watched as our little girl (newly dubbed Ginger), heard something coming from the nearby trees and bolted off after it into the woods! After a frantic, fruitless search by Doug and several of his neighbors, all we could do was wait for a phone call--thankfully Ginger was microchipped and wearing her Pet Shepherd tag.
The call did come, in not too long a time. It seems that Ginger had had enough time alone in the woods and went to the nearest house she could find and scratched on the door to be let in. The residents had recently lost their dog, and were more than happy to let this little stranger in and make the call that would reunite her with Doug. We were shocked to learn that she had made it 6-8 miles through the woods from where she started! What we thought was most amazing was that this little girl, who started off being very fearful and shy, seemed to blossom during the weekend as she got to know Doug and Wendy's friends and neighbors and their dogs, and actually sought out a house with people so that she could be found and taken care of. We all slept better that night for sure, especially Doug who had walked about 10 miles looking for his wayward charge. Our heartfelt thanks go out to the kind people who took Ginger in and kept her safe until Doug could reclaim her. She'll have to wait a while for "cabin privileges" again, that's for sure! Doug will be flying up to Snowflake on Tuesday to pick up our little "Forest Ranger" and bring her back to Phoenix. We should have new pictures this weekend (and hopefully some of her first plane flight).
UPDATE 8/21: Doug flew up to Snowflake today to bring our little girl home. Other than getting airsick, she did well and enjoyed the flight:

Ginger touches down at Deer Valley Airport with Doug at the controls

Ginger's not sure she wants to "land" yet...

...but Wendy convinces her that all is safe

Ginger decides to test her land legs

Wait a minute! Am I still in the air? That's a LONG way down!

Doug lends a helping hand

Safe on solid ground!

Thanks, Doug, for bringing our little girl home safe
UPDATE FROM DOUG & WENDY: Just thought we would let you know that we are back in town - and with the same number of dogs that we left with (that would be ONE - Ginger). By all appearances, she had a ball, chasing around with her new friends Schnok (lab mix) and Shelby (Border Collie). ...we kept her on her leash for the first day and then gradually let her walk without - she never went more than about 25 feet from either of us. We had a terrific thunderstorm last night but Ginger never flinched at the thunder. She rode well in the truck both ways even though the Labor Day traffic was awful - more than two hours longer than the normal 4 hours on the way up and over an hour more on the way home. <!>
JOHNNY & TOMMY:
UPDATE 8/21: Johnny and Tommy saw the vet today. Johnny weighed in at 48 pounds, and Tommy tipped the scales at a hefty 55. We had a fecal exam done for worms and parasites, and everything was clear (much to our surprise and delight). They boys did well at the vet's office, showing more curiosity than fear. We will be bringing their 2 brothers over to join them tomorrow. What they all need is a BATH, which they will receive once we are sure their sutures have healed completely.
HAUER & TIMMY:
UPDATE 8/23: The remaining 2 Carson 5 boys are now resting comfortably (along with their 2 brothers) in their temporary foster home. They are still a bit shell-shocked after the move, but both are very sweet and social.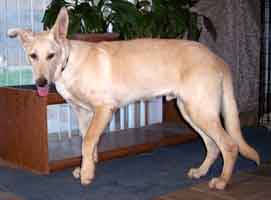 We believe this is Ginger's brother, due to his coloring

We're waiting to get our hands on the paperwork to confirm, but we believe this to be Tommy and Johnny's brother

Hauer (left) & Timmy

[left photo] Hauer (left) & Timmy [right photo] Timmy (left) & Hauer <!/TABLE>

JOHNNY, TOMMY, TIMMY & HAUER:
UPDATE 8/29: The boys were all seen by the vet today and each tested NEGATIVE for worms (including heartworm), erlichia (tick fever) and Lyme Disease. They each weighed in between 48 and 54 pounds. The technicians at the vet's office were surprised at how gentle and compliant these kids were; they definitely gained some fans today.
UPDATE 9/3: Timmy was adopted today! After a very successful initial meeting with his new parents on Friday, and a home visit and doggie intro today, Timmy is now officially a member of the Jackson family. Timmy's brothers and sister wish him well and are looking forward to the day when they, too, will find their forever families. Your foster family will miss you!
UPDATE 9/18: Tommy was adopted today! After a very successful initial meeting with his new family on Saturday, and a home visit today, Tommy is now officially a member of the Quinn family.

Johnny, Hauer and Ginger wish him all the best; your foster mom misses you already.
Informal obedience will start this coming week for Hauer and Johnny. Confidence building has been a success with these kids, as they are now social and loving puppies. They are crate trained, spayed/neutered, up-to-date on shots and microchipped.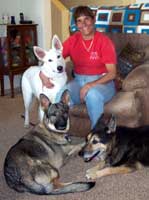 UPDATE 11/12: Johnny was adopted today (see above)! The third of our Carson boys has found himself a forever home...with horses, goats and a brother and sister to play with!
UPDATE 3/11/2008:

Ginger was adopted today!
UPDATE 2/6/2009:

After a very long wait (and one failed placement), Hauer was adopted into his forever home today, bringing a very happy close to the saga of the Carson Five.

UPDATE 3/21/2009:

Carson Johnny (now Bear) and forever mom Cindy stopped by for a visit today. All we can say is WOW!