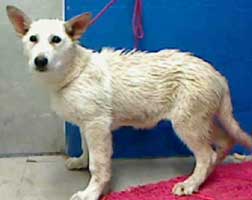 We first heard about Surfer through an email from Laurie, who does website postings for dogs in Los Angeles area shelters. She knew we rescued white German Shepherds and was pretty sure she'd found one...and she had! We took one look at that sweet face (and those huge feet) and immediately began our email and telephone quest to save him.

We had never dealt with this shelter north of Los Angeles before, so finding someone who could be a go-between for us was frustratingly difficult. An email to our friends at Coastal provided us with the leads that we needed. It just so happened that there was a transporter (Csilla) going to the shelter and bringing back another shepherd for Westside German Shepherd Rescue. Did we want out little guy to tag along? You bet we did.

We spent an anxious Thursday morning and into the afternoon, waiting for word that our boy had been rescued and was on his way to Malibu. A call to the shelter told us that he was still there and up for adoption to anyone who wanted him! It was close, but we finally got the call from Robin that Surfer was on his way with the transporter.

We will be heading west on Friday to retrieve Surfer and bring him home to Phoenix. He will spend the first few days with a staff member, where his needs will be assessed, and then he will be looking for a foster-to-adopt home.

Surfer is approximately 16-18 weeks of age and is said to have all of his puppy teeth. Judging by those feet, he's going to be a good sized shepherd, but has a sweetheart temperament. He will be microchipped and updated on shots within the next week and neutered when ready.

It was a miserable day in Malibu on the beautiful Pacific Coast Highway as we arrived to pick up Surfer

Surfer was definitely ready to go

Surfer says "thanks" to vet tech Robin
UPDATE 2/5 & 2/6: Surfer was picked up in Malibu on Friday, and after a very long 9 hour drive through LA traffic, he arrived safe and sound at his temporary foster home with one of our staff members where he was promptly given a much needed bath (which he hated). He slept in his crate without a sound all night. This morning he was let outside and immediately went potty and came back in and back to sleep. This poor baby is definitely suffering from shell shock--who can blame him after everything that's happened to him over the past couple of days. He was introduced to the members of the resident pack and did well with everyone. We're going to let him settle in a bit and some some additional photos when he's feeling more comforable.
UPDATE 2/7: Surfer has had a very rough weekend and will be seeing our vet first thing in the morning. He's such a sweet, loving boy that we're just heartsick that he's not feeling well.
UPDATE 2/8: Surfer was checked into our vet's first thing this morning. We're not sure what the problem is, but he's receiving the best of care and we should know more (or at least something) by this afternoon. With funds in very short supply due to all the dogs we have taken in over the past few weeks, and the surgeries and medical needs of our other rescue furkids, Surfer would sure appreciate your help:
UPDATE 2/9: We are sad to report that Surfer lost his battle with what we believe to be parvo virus this morning. Such a sweet soul; how we would have loved to see him grow to fill those big feet of his.
We appreciate very much the donations that we have received and have, thus, been able to cover about half of Surfer's medical bills. Thank you. You made a difference.