Imagine living your entire life in a four foot by five foot dirt enclosure, surrounded by chain link, with nothing but a wooden "box" for shelter and no one for company other than dogs in the same predicament as you.

Imagine being housed several hundred feet from where your humans live and only having contact with them when it's feeding time ... if they remember ... or when it's time to make more puppies.

Imagine these are your collars -- so faded and caked with mud you can hardly recognize the colors (from the top: Red, Blue & Pink)

Imagine never feeling a brush on your coat, or getting a regular bath. In fact, the only time you DO get clean is when you are going to have puppies, and then you are allowed to live on concrete, with access to a garage for shelter, which gets you and your puppies off the red dirt.

Imagine your beautiful, snow white coat turned to reddish orange by the dirt and mud you are forced to live in

Millie

Caprice*

Brandi
*Caprice was "clean" as she had just had pups and was living on the brick surface she is standing on in a pen attached to a garage

This is Caprice, just outside of her brick pen -- those are NOT dog biscuits on the ground to the right. Cleanup is obviously not a priority here.

Sparticus & Millie in their mud pen

Sparticus in the mud (notice his disgusting dishes and the hole he's dug?) - Sparticus' coat is stained orange because his job is "making" pups, not having them, so he never gets off the dirt
Imagine you are a beautiful female shepherd, a shining example of your breed, bred at every heat cycle, to produce puppies to pay your owner's living expenses, and the only reason you are permitted to "retire" is because you don't produce enough puppies in each litter. Imagine looking like this, when you are in the prime of your life (Caprice is 4-1/2 years old):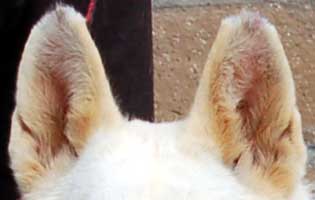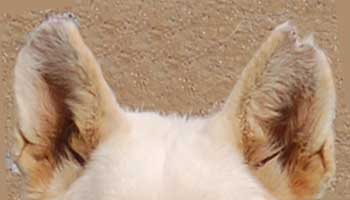 Imagine your ears being eaten off by the flies, with nowhere to hide for relief.
If you can imagine any of these things, you know what Brandi, Sparticus, Caprice and Millie have endured, and why we had to help them.
We were first notified about the plight of these dogs when a fellow rescuer in California gave this breeder our contact information. We were contacted to see if we could take the dogs. Before agreeing, we sent our volunteer, Cindy, over to take some photos and to meet the dogs. When the photos arrived, to say we were shocked was an understatement.
<!BR><!IMG SRC="Riverside-3.jpg" HEIGHT="225" WIDTH="649" BORDER="2">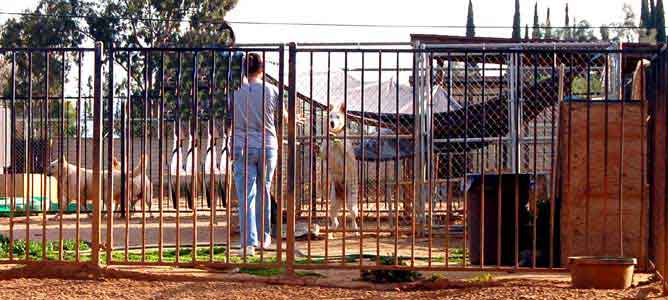 Sparticus & Millie at left / Brandi and her black & tan puppy at right
Can you imagine your own beloved dogs living in these conditions?
With so many empty runs, we could only imagine what the scene had previously been. These dogs were living in squalor on a piece of property next door to the owners' home. Their runs were complete dirt, with nothing but wooden boxes for shelter and nowhere to keep warm on nights that were consistently below freezing.
We knew we had to do something for the dogs, and so we loaded up our van with crates and headed for California. With Cindy's help, we loaded up the four adult dogs, but when we loaded Brandi, her last puppy began to cry for her--it broke our hearts, and so we offered the owners cash on the spot for her...and they took it. So, little as-yet-to-be-named puppy joined her mother, aunts and grandfather on the rescue wagon.

Loaded up and ready to go -- Sparticus and Caprice are looking happier already
Since we had already spent more than seven hours on the road, a stop at Crossroads was in order to give the dogs (and us) time to relax before the long trip back to Phoenix.

Cathleen welcomes Sparticus and Caprice to Crossroads

"Puppy" is not sure she wants to come out

Brandi definitely wants to stay in the van

Cathleen reassures Sparticus

Millie meets Cathleen

Caprice says thanks to Joe for taking her in

Millie is happy to be out of the mud

Brandi and her puppy are reunited

After getting settled in, Sparticus is looking happier already
UPDATE 2/2: After a good night's rest, we took some time to take photos of the kids (who were noticeably more relaxed than they had been yesterday).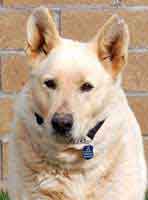 Sparticus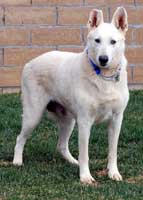 Brandi (and puppy)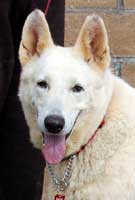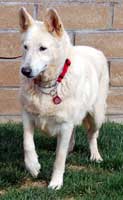 Millie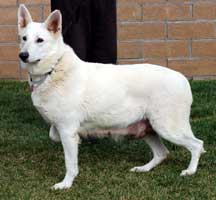 Caprice
It was a long ride back to Phoenix, but the dogs took the ride like troopers. The adults were safely tucked away (temporarily) at Canine Country Club, while the puppy was turned over to our partners at Southwest GSD Rescue.

Brandi

Millie

Sparticus

Caprice

Brandi's puppy is safely turned over to Steff & Darleen at Southwest GSD Rescue
Our first plan of attack is to get the dogs to Sherry's Pampered Pets to be cleaned up, and then to our vet for a checkup and spaying/neutering if they are healthy enough to do so. It's going to take time to bring these dogs around, but the first and hardest step has been taken. They are all known to be between 4-1/2 and 7 years old (they look a lot older, don't they?), with Sparticus being Brandi's sire (dad). Now all they need is your support.
If you would like to help the Riverside Dogs, by donating via Paypal, please use the link below.

In the alternative, checks made payable to WGSDR may be mailed to:

White GSD Rescue
2807 W Michelle Drive
Phoenix, AZ 85053-1732

If you would like a tax receipt for your donation, please make your check payable to "C.A.B.R.A." and mail to:

CABRA
c/o Bill Ferrell, Treasurer
116 Pioneer Street
Gilbert, AZ 85233
Note on the check "For the benefit of White GSD Rescue--Riverside Dogs" <!P align=CENTER><!img src="line.gif" width="600" height="2">

Thanks to those who have donated for these dogs. Without their generosity, this rescue would not have been possible.

Becky & Phil Gang<!50>
Sara Albrecht<!50>
Mickey & Dave Zehrbach<!50>
Jim & Terri Brown<!50>
Jennifer Goedken<!50>
Geoffrey Hachtel<!25>
Michelle Riachi<!50>
Janet Spadora <!250>
Susan Fischer <!200>
UPDATE 2/5: Sparticus had a bath today! The groomer at Canine Country asked if she could give it a try to see if Sparticus would allow her to bathe him and HE LOVED IT!!
We will be picking Sparticus up later on today. He will be spending the night at Sherry's Pampered Pets, and then on to the vet in the morning. He's still having some stress diarrhea, but other than that, he's coming around slowly but surely.
One of our staff members went to Canine Country Club to pick up Sparticus, and she almost didn't recognize him. Instead of the rusty orange he had been -- HE'S WHITE!!. He jumped right up into the transport van for the trip to Sherry's Pampered Pets. Rather than take him straight to Sherry's for overnight boarding, we decided to stop at the dog park and give Sparticus a chance to walk around on the grass and see other dogs at play.

Sparticus rode shotgun

We're guessing this is Sparticus' first time on grass, let alone at a dog park

He was facinated by the whole dog park scene

Now that's what a German shepherd should look like!

Hard to believe it's the same dog, isn't it? What a difference 3 days of love and care can make.
Sparticus will be seeing our vet tomorrow for an exam. If he is healthy enough, he will be neutered and possibly given a dental as he does have some tooth tartar on some of his molars.
UPDATE 2/6: "Sparky," as he is now affectionately known, checked into Dynamite Creek Animal Hospital this morning. First thing was a weigh-in -- 110.8 pounds!! Definitely needs to trim a few off. He will be neutered, have his nails trimmed, checked for parasites and receive a dental if needed.
AFTERNOON UPDATE: Sparky came through his neuter surgery without complication. He also got a nail trim and a full dental to take care of the tartar buildup on his molars. He is negative for parasites/worms. He will be spending the night with one of our staff members.
EVENING UPDATE: Sparky is now resting comfortably at the home of one of our staff members -- you have to wonder if this is the first time (since puppyhood) that he's set foot inside a home. The vet said everything went perfectly, and underneath all that tartar was a beautiful set of healthy teeth.
Millie and Brandi are safely tucked in at Sherry's Pampered Pets for the night. They will be seeing the vet in the morning. Caprice awaits at Canine Country Club for her turn at the vet.
UPDATE 2/7: Both of the girls saw the vet this morning. Unfortunately, the news for them is not as good as it was for Sparky. Having puppies time after time is very hard on the body and both Brandi and Millie have been "ridden hard and put away wet."
Millie is actually in better condition than Brandi as it does not appear that she has had a litter too recently. Brandi, on the other hand, is Fergi's mom, which tells us her last litter was a mere 15 weeks ago. Both girls are suffering from eye infections, which will be addressed immediately. They will both be on antibiotics and eye drops. Brandi also has a small mammary tumor, which will be removed at the time of her spay, and a urinary tract infection, for which will begin treatment right away. We are hoping that we can get both of these girls back on the road to good health.
After speaking to the vet post-surgery, there is some good news for our girls. We had been worried about their inflamed eyes (2 on Brandi and 1 on Millie), and so we asked that this be checked out thoroughly. The results of the stain test are negative! There is no pannus or permanent injury to their eye corneas. They are suffering from "dry eye," probably caused by being outside all the time in the dirt, with very little shelter from the wind or shade from the sun. The initial treatment is costly, but we're going to go ahead with it.

It's been a very long day for Brandi, who is resting comfortably
in the home of one of our staff members
Due to the lack of a safe place for her to recover, we have decided to postpone Millie's spay surgery for at least another week until Sparticus and Brandi are back on their feet again. Once we have a place for Millie and Caprice to go for recovery, we will schedule their surgeries.

Millie gets a weigh-in from Amanda (78 pounds)

Garrett can't resist getting up close and personal with Brandi

Candice & Garrett help Brandi

Sparticus waits in the van while the girls see the vet
It has cost us approximately $600+ at the vet's office in the past few days, and we still have Millie's spay and all of Caprice's needs to take care of. These kids could sure use your help. If you can help, even just a little, they would surely appreciate it.
If you would like to help the Riverside Dogs, by donating via Paypal, please use the link below.

In the alternative, checks made payable to WGSDR may be mailed to:

White GSD Rescue
2807 W Michelle Drive
Phoenix, AZ 85053-1732

If you would like a tax receipt for your donation, please make your check payable to "C.A.B.R.A." and mail to:

CABRA
c/o Bill Ferrell, Treasurer
116 Pioneer Street
Gilbert, AZ 85233
Note on the check "For the benefit of White GSD Rescue--Riverside Dogs"
UPDATE 2/7:

Macy checks Millie in at the desk

Katherine takes over and brings her in

Millie checks out the play yard at Doggie District
MILLIE DOGGIE DISTRICT UPDATE 2/8: Katherine at Doggie District reports that Millie was out in the play yard today with 13 other dogs and did beautifully! She is happy and social and learning that life is more than a small, chain link pen on red clay dirt. She's a happy girl! Her spay surgery has been tentatively scheduled for Tuesday.
Even though the fecals have been NEGATIVE on Sparticus, Brandi and Millie, due to the POSITIVE test on Fergie, we are going to dose all the adults with panacur to be on the safe side.

The "ICU" at one of our staff member's homes - Sparticus in front, with his daughter, Brandi, behind him

Sparticus says, "My foster mom took me to Dairy Queen today!!"
UPDATE 2/11: Sparticus is doing so well, and in order to make way for Millie (who is being spayed in the morning), we said "goodbye" to Sparticus and move him to Doggie District, where he was reunited with Millie for a short time.

Millie decides to try out the slide - Sparky decides to watch
UPDATE 2/12: Millie checked in at our vet's office for surgery this morning, weighing in at 76 pounds - a 2 pound (much needed) weight loss since her checkup last week. Looks like she's been working some weight off with the fun she's been having at Doggie District! We will be moving Caprice out of Canine Country Club and into Doggie District this afternoon for some fun in the sun.
UPDATE 2/12: We definitely played "musical dogs" today. We took Millie to the vet for her spay. We picked up Caprice at Canine Country Club and moved her to Doggie District where she was reunited with Sparticus, and finally, at the end of a very long day, we picked up Millie at the vet and moved her to a temporary foster home with one of our staff members.
Sparticus: Sparky was so delighted to see our staff member (his former foster mom) at Doggie District today ... his joy knew no bounds. He ran and hopped and wiggled all over, not to mention showing off for her. The staff at Doggie District said they had never seen him so animated (or happy)!
<!IMG SRC="images/RiversideSparticus-30.jpg" HEIGHT="200" WIDTH="186" BORDER="2">
Sparticus was enjoying the play yard with his friends -- that is until he heard his foster mom's voice from the other side of the fence
Caprice: Caprice was moved to Doggie District today and was very happy to see her old friend, Sparticus, who showed her around the play yard and introduced her to the jungle gym. We were told that Sparky absolutely LOVES to play on it, and wasted no time in showing Caprice how it's done.

Caprice & Sparticus are very happy to see each other

Caprice is looking better already

Caprice (at right) thinks she may have taken a wrong turn -- Sparticus, where are you?

Sparticus is hiding from Caprice...can you see him?

Caprice found him!
Millie: Millie came through her spay surgery without complication. The vet said that her uterus was basically "shredded" and looked like the uterus of a 10 or 11 year old dog. We're sure she's happy to be rid of it! Other than that, she is in good shape and will be on antibiotics and eye medications for several weeks.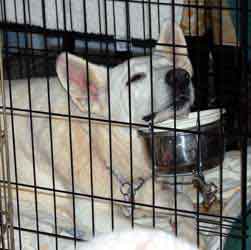 <!IMG SRC="images/RiversideMillie-18.jpg" HEIGHT="250" WIDTH="311" BORDER="2">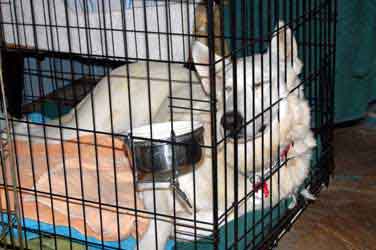 Millie snoozes in her crate post-surgery
Brandi: Brandi continues to recover from her spay surgery. Her eyes are looking better and she is eating well. She will be going back to the vet 2 weeks from her spay date for a followup (approximately 2/21).
The Riverside Refugees went on to find their forever homes.
<!a href="RIVERSIDE_BRANDI.HTM" target="_blank">
Brandi
<!a href="images/RIVERSIDE_FERGIE.HTM" target="_blank">
Fergie
<!a href="RIVERSIDE_CAPRICE.HTM" target="_blank">
Caprice
<!a href="RIVERSIDE_SPARTICUS_MILLIE.HTM" target="_blank">
Sparticus
<!a href="RIVERSIDE_SPARTICUS_MILLIE.HTM" target="_blank">
Millie