Sid (formerly Lightning) was rounded up (along with his female counterpart) from a dog hoarder in Tonapah, Arizona, in May, 2005. While his mate adjusted well to shelter living and was quickly adopted, Sid did not fare as well. Humane Society personnel determined that Sid was just too traumatized and would not "show" well enough to be put on the adoption floor. He was destined to be put down due to the massive overcrowding that takes place in all shelters at this time of year, and so our rescue was called. Could we give Sid a chance? After seeing this photo of Sid, sitting so sadly in his kennel at the Humane Society, how could we say no?

When we went to evaluate him, Sid stood like a statue and flinched each time we touched him. We didn't take no for an answer, and sat right down on the floor with him. After just a few minutes, he was leaning his head on one of our staff member's shoulder, just aching for more of the hands-on attention he was receiving. He then, very slowly but voluntarily approached our other staff member and put his head in his hands. We knew we had to at least giving this boy a chance at a new life. Lightning was renamed Sid, for Sid the Sloth in Disney's movie, "Ice Age." This boy just seemed to be saying, "Doesn't anybody love me? Doesn't anybody care? Doesn't anybody love Sid [the sloth]?"

One of Sid's puppies (confiscated in the same raid) with his foster mom
UPDATE 05/27: Sid was treated for tick infestation on 5/25 and neutered today. Due to an undestended testicle which required a more complicated surgery than a standard neuter, Sid will not be ready to go to his new foster home until at least Sunday, the 29th, when he will be placed in the home of one of our staff members for the start of his journey to his forever home.

It certainly didn't take Sid long to make himself at home
UPDATE 05/30: Sid is doing well and slowly coming out of his shell. He greets his foster family members with a smile and a big wag of his tail. He appears to have had no obedience training, but walks well on a leash and is completely housebroken. Unfortunately, Sid's ears have been so badly neglected that he will have to return to the Humane Society on 6/2 for a good ear cleaning. Hopefully, this should really put Sid on the fast track to recovery. He's eating well and taking the big changes in his life in stride. (Brief note: Sid was returned to the Humane Society for his ear cleaning, but because his ears were so badly neglected and swollen, the HS could not do the procedure because no ear canal could be accessed in either ear.)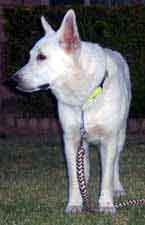 UPDATE 6/3:Sid is looking better and better every day. After multiple cleansings, his ears are beginning to actually stand the way a German Shepherd's should. Sid may always have ears that will require special attention, but so far he's doing well. He has been put on a preventive course of antibiotics and we will continue to monitor him closely. He is coming out of his shell and has quite a personality!

Sid, relaxing at his foster home
UPDATE 06/09: Our Sid is a celebrity!! Animal Planet has been filming at the Arizona Humane Society for several weeks now in preparation for a 15 week series on the AHS, one of the top shelters in the United States. The Animal Planet staff were with AHS officials when they did the raid on Sid's former owner's property and were witness to his capture. They verified what we had heard about Sid being shot with a tranquilizer gun because he would not allow anyone to get close enough to catch him. The Animal Planet crew was curious as to how far he'd come and how he was doing. And so they called our rescue and asked our staff member if she knew what had happened to Sid and where he was. Our staff member responded, "He's sitting right here with me!" Animal Planet requested permission to come out and tape Sid's progress, and we happily obliged.
Sid was not happy with three strangers in the house, but he went up to each one of them to say hello and fell asleep at his foster mom's feet halfway through the interview. The crew were amazed that this was the same "wild" dog they had filmed a mere 2 weeks ago.

Sid isn't so sure that mugging for the camera is something he really wants to do
In spite of the great strides Sid has made thus far, he still has a long way to go. Rather than avoiding all human contact as he started out doing, he now does not want to be left alone and will go to great lengths to make sure a human is close by at all times. He has been introduced to one female shepherd from the pack at his foster home and will soon be integrated as a full-fledged pack member and paired up with a "buddy" to keep him company. We are hoping that this will reduce Sid's anxiety about being left. He walks well on a leash, and we will be starting novice obedience training now that his ears are feeling better.
UPDATE 06/12: Sid was integrated into the pack at his foster home today and is already feeling calmer and happier about himself. He has been paired with a very friendly and outgoing female, and he is slowly but surely learning the routine of the household. He waits patiently in his crate for his turn in the yard and is content to remain in the yard until he is let back in. This is a huge step for Sid and we are very proud of him!
UPDATE 07/01: Sid continues to do well in his foster home and has become quite the happy fellow. He loves being part of a real family and living indoors, but is not quite sure obedience is something he wants to learn. He's very sweet and has learned to sit on command, although not always on the first try. Sid is quite the character and is sure a lot happier than he was just a few short weeks ago. His ears seem to be a thousand percent better and he is no longer in pain. He will be checked by our vet in the near future and, if pronounced fit, will be ready to begin the search for his forever home. Do you have the time and love necessary to show Sid that somebody really does care?
UPDATE 07/15: Sid saw the vet today and the news is all good. He's up to almost 80 pounds and his ears are doing well. They are pink and healthy with not a hint of swelling. The vet put him on a 2 week course of cleaning and daily medication to clean up any yeast infection that might still be lingering but, otherwise, Sid was given a clean bill of health. And the best part is that he let the vet and his tech touch him and poke him and prod him and clean his ears without any protest at all. What a good boy, Sid!
UPDATE 08/11: Sid continues to settle in at his foster home and has become quite the happy boy. He has made several trips to the park to begin his socialization. In time we hope that Sid will enjoy the park as much as we do, but like everything else in Sid's life, it's going to take time. He's just learning to be a dog and to discover the big, wide world around him -- something he never had the opportunity to do before.
UPDATE 9/13: Sid has spent most of the long, hot summer lazing around his foster home. He suffered a minor setback at the park when introduced to a not-so-friendly female GSD who decided right off the bat that Sid was not her cup of tea. While Sid initially tried to be friendly, he did not take well to the marked aggresiveness of the other dog and seemed very unhappy until we took him back home and showed him that everything was all right. Now that the cooler weather is approaching, we will begin taking Sid out to the park on weekends where, hopefully, he will have better luck in meeting new friends.
If you have the time, love and patience to devote to Sid and to introduce him to the world, he'd love to meet you. Sid will only be placed in an only-dog situation where he will not be left alone all day OR with a very friendly female dog for company. After all he's been through, being alone is not something Sid should have to live with.
UPDATE 11/21: Sid has had several introductions, but he has been very stressed through each one. Sid is wonderful at his foster home and greets people (even strangers he does not know) with a smile and a wag of his tail, but take him off his home turf and it's a different story. He's very frightened and startles at every little movement or noise. After much soul searching, Sid's foster mom has decided that unless a home comes along that Sid can feel comfortable in, he isn't going anywhere and is welcome to stay right where he is, at least for now. We will continue to socialize Sid over the coming months and, if all goes well, he may be available for adoption in the future. But, for now, he's home. Welcome home, Sid!
UPDATE 12/12: We just received word from the Animal Planet production company that "Animal Planet Heroes - Phoenix" will debut on Animal Planet on Monday, January 16th. We're not sure which episode Sid will appear in, so set your VCR's and be sure to watch for him.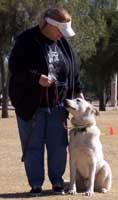 UPDATE 2/25: After his successful television debut, Sid decided he wanted to get out and meet "his public," and so he's signed up for Bert's Boot Camp. Much to our surprise, he's having a wonderful time! Steff figures that since the other dogs are having a good time and not stressed about being out in the park, Sid is simply picking up on their signals and enjoying himself as well. He's not always sure he wants to sit when he's supposed to, and "down" is pretty much out of the question, but he's having a good time and that's what's important.
Animal Planet has contacted us about doing yet another follow-up on Sid. We'll keep you posted.
UPDATE 3/12: The Animal Planet crew was in Phoenix today! They came to see Sid and his buddies at Boot Camp and spent about 2 hours filming and doing interviews with various members of our staff. We're hoping Sid will appear on Animal Planet again some time this summer. In the meantime, watch for "Wandering Beagle" to appear in reruns. The new episode called "Desert" appeared in the Fall of 2006.
UPDATE 11/11: Sid and a bunch of his rescue friends from Southwest German Shepherd Rescue and White German Shepherd Rescue marched in the Veteran's Day Parade in Phoenix today in salute to the Military War Dogs.
Many people in the crowd recognized him from the Animal Planet show and called to him...and Sid was happy to oblige.
P.S. Sid has been formally adopted by his foster mom, Nancy, and will spend the rest of his life being a goodwill ambassador with White German Shepherd Rescue.
Why not make a donation in Sid's honor?
His fellow rescue furkids would sure appreciate it!

We lost our beloved Sid on August 15, 2016. He lived a long and happy life and was loved by all who knew him.