Rose and her brother were found in December, running along the Piestewa Freeway. The Good Samaritans stopped and coaxed both dogs into their vehicle but, not having a place for them, they took them to the Humane Society. We're not sure what happened to her brother, but Rose has found herself looking for a second chance (and a forever home) with our rescue. Her evaluation is pending.

We do know that Rose is about a year to a year and a half old. She is spayed, up-to-date on shots and will be microchipped prior to placement.

Her formal evaluation and photo shoot is scheduled for this coming week.
UPDATE 1/30: We met Rose at the MASH Unit today. She is a very unsocialized little girl who is starving for human companionship but too shy to approach and seek it out. When she finally allowed us to touch her, she froze in fear and tried to avoid our touch at all costs. She never did relax under our touch.
Rose has obviously been tied out, as her neck fur is very short and broken. She is a medium sized girl with a shorter-than-usual tail. If she had been well taken care of during her short life, she would be a very lovely German Shepherd.
It is going to take a very special person with a ton of patience, love and understanding to draw Rose out of her shell. She is a prime example of what happens to a German Shepherd without proper socialization. She's afraid of the world around her and needs to be introduced to life. Her initial reaction to anyone who comes near is to bark, growl and snap, in hopes that they will not approach and leave her alone. When pressed, she simply retreats.
UPDATE 2/23: One of our staff members and a foster mom went down to the MASH Unit to visit Rose today. The officers and trustees at MASH reported that Rose has come out of her shell a bit, but is still very shy around people. Some of the trustees at the MASH Unit are afraid of her and will not interact with her. Our foster mom was able to sit with Rose and touch her, and Rose eventually settled down and actually started to enjoy the attention, but on her next visit, Rose one again growled and barked at her, warning her to keep away. Our foster mom will be setting up regular visits with Rose in the hope that she can be sprung from the jail and make her way into a foster home situation.
UPDATE 3/10: Our foster mom scheduled another visit with Rose today and it was the same story. Rose growled, barked and snapped at her in the hopes that she would be left alone. Even when pressed, Rose was never comfortable and tried to avoid all contact. Our hearts are breaking for Rose as we just cannot seem to break through...
UPDATE 4/13: Unfortunately, the news on Rose is not good. She has nipped one of the trustees at the MASH Unit, and her freedom has been curtailed for safety reasons. Although our foster mom Betty has continued to visit, Rose has not made any improvement but has actually gotten worse. She initially tries to keep Betty from entering her kennel, but Betty is not fooled by Rose's display. She moves right in and spends time with Rose and while Rose will take the treats that she is offered, she still does not want to be touched and will avoid contact at all costs. The only way we can touch her is to put her on a leash.
UPDATE 5/12: We knew this day would come, but the personnel at MASH are asking that Rose be removed. We are desperately trying to find a trainer who will take her on, but that will mean a financial commitment which we are not prepared to meet. If you know of anyone who might be able to take on this little girl,
UPDATE 5/15: ROSE IS BEING GIVEN A SECOND CHANCE!! Thanks to Kathy S who referred us to Sheila, and to Sheila of Lotus Dog Training, and to Ronnie in New Jersey, Rose is going to be given another chance at a life. When we put out the word that we were DESPERATE to find someone who could take on our little Rose, Kathy sent us Sheila's name. Once contacted, Sheila was up for the challenge and agreed to take on Rose - but the stumbling block was going to be the cost. In stepped Ronnie. When she heard that she could help Rose, she offered to sponsor the first week or so of Rose's rehabilitation.
We will keep you posted on her progress, but Rose is going to need some additional angels to see her through. Can you help?
UPDATE 5/16: When one of our staff members and a volunteer went to the MASH Unit to pick up Rose, they were afraid that they might not be able to accomplish their task. Rose was being quite aggressive and would not allow anyone to come close, let alone touch her to put on a collar. Knowing that Rose's aggression was fear based and not outright aggression, our staff member resorted to the "dog catcher's pole," but once it was placed around her neck, Rose completely submitted, her aggression vanished and she followed her rescuers out of MASH and into a new life, climbing into a crate in the back of a van that was to take her to a trainer who we hoped could work the magic that Rose so desperately needed.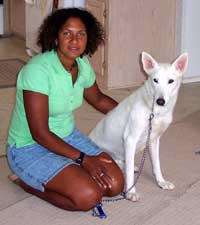 After a long drive, which Rose took without complaint, she arrived at Lotus Dog Training and was immediately introduced to Sheila (pictured with Rose at left) and Attica, the resident welcome dog. Rose immediately began running through the grassy yard, something she hadn't been able to do in months. She discovered a small plastic kiddie pool and climbed in and lay down in the cool water! After all the fun, she was reluctant to go into her crate for the night, but it's something Rose is going to have to learn.
UPDATE 5/17: The first report on Rose is a good one. She slept the entire night quietly in her crate and had been introduced to the pack (6 other shepherds and shepherd mixes) without incident. After her morning run, Rose returned happily to her crate and crated up without objection. A major milestone for Rose.
A poem by Wolf to ROSE Rose, I know you are scared and do not want to trust
But please, listen to me - I tell you, you must!
I was lost and had no home of my own
Until my dear Ronnie rescued me when she picked up the phone
I am no longer around to fetch Ronnie a bone
She stares at my pictures and cries all alone
I wish I could let Ronnie know I am still with her
To prove that do, I urge her in a whisper


So dear Rose, please don't be shy
Do not be scared and do not cry
If everyone could just please recall
That a dollar really isn't that much at all
It can barely buy a soft drink, or a tip to the mall


BUT, it can buy HOPE, with just a few dollars to shed
It can buy you a forever home with a warm and safe bed
If everyone who reads this post
Can remember me with honor and Ronnie on NJ coast
Please give just one dollar to save Rose from death
It would please me at Rainbow Bridge, and Ronnie, who loved me the best


Wolf, now at Rainbow Bridge watching over Rose and Ronnie
Kitty, now at Rainbow Bridge watching over Melissa
UPDATE 5/23: A progress report from Sheila of Lotus Dog Training is encourging. Rose is now crate trained! She occasionally will "dig" in her crate, but we believe that is an instinct to "readjust her nest" as she is not attempting to get out of the crate but settles right back down. Rose attends obedience classes (she and several reservation dogs are loose in the training yard while an obedience class is being taught), and she is learning that the people in the class carry treats! Food is a very big motivator for Rose, and she has begun to approach the people in order to receive a treat. She is learning to live in a house, and she actually is beginning to play with toys.
Rose has a lot to learn and a long way to go, but due to limited funds, we will only be able to continue her present situation for another 2 weeks. We are hoping that we will not be forced to move her before she is ready ... (pictures soon).
UPDATE 6/2: Sheila is going on vacation, and Rose had to be moved to a new foster home today.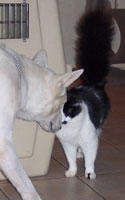 Rose made lots of new friends today, including Franny (the cat), Gypsy, Bear, Jeri (our deaf foster furkid), Oscar (the cat) and, of course, foster mom, Betty
UPDATE 6/30: Rose has been accepted into a sanctuary in Texas, and we are in dire need of funds to get her there. We have a volunteer driver, but will need to rent a vehicle large enough to hold Rose and her crate, not to mention gas for the 2400+ mile round trip. Rose could really use your help to get to her forever home.
UPDATE 7/14: We fell far short of our financial goal, but time was running out for her, so we pooled our personal resources and sent Rose off to Texas this morning with her foster mom, Betty at the wheel. It's still not too late to donate to help Rose, as we will be facing the credit card bills in August. Thanks to those of you who donated to help us save Rose. She is on her way to a better life.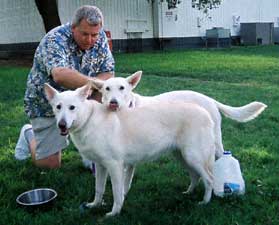 Rose (at right) with traveling companion, Bailey, and new dad, Jay, on the last leg of her journey.