Princess (dubbed Bianca at the shelter) was turned in to the Downey (California) Shelter by an owner who either didn't know or didn't care that unspayed females will get pregnant if not properly supervised. Above is a picture of Princess on the day she was surrendered (and I use that word to be kind -- she was DUMPED). She is extremely bewildered and depressed at the shelter...what a way to start a new year.

This is a picture of Princess 3 days later, on January 2nd,
the day her four babies (2 black and 2 white) were born
Our thanks go out to Sheryl, a volunteer at the Downey Shelter, who never gave up searching for a rescue to take on this sweet mama and her precious babies. Thanks also to Zara from Pennsylvania; Gina, who started the ball rolling by pledging $50.00 towards expenses of rescuing Princess and her pups; and Stephanie James of Dogs Second Time Around Rescue who have mounted a massive email plea for funds to assist us with Princess' rescue, transport, and whatever she and her puppies may need in the future.
Two of our staff members will be heading to California (yet again) on January 13th to bring Princess and her brood back to Phoenix where they will be sequestered until they are old enough for adoption.
UPDATE 1/13:

With the snow capped mountains of California looming in the distance, we set off for the Downey Shelter

Getting closer
| | |
| --- | --- |
| We found Princess pretty much as we had been told -- frozen solid with fear and very depressed -- but taking excellent care of her babies | ...and so we began the transfer with Sheryl's help |
| Sheryl (Princess' Guardian Angel) says goodbye | All loaded up and ready for transport |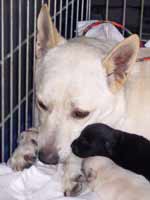 After a very long (700+ miles) drive, Princess and her babies (3 girls, 1 [black] boy) are safe and sound in Phoenix with their new foster family. Princess and her babies will want for nothing (so far our expenses are 3 tanks of gas [$100] and an unexpected $175 bail out fee, and we've only just begun).
The good news is that Princess is already starting to wag her tail for us. She's eating and pottying (outside). She's definitely not a white GSD, but is a small, white mixed breed with shepherd characteristics (almost looks like a cattle dog, but white). She's got a wonderful temperament from what we've seen so far. The more she settles in and relaxes, and the more time we spend with her, the more we'll get to know about her. The puppies are fat and (so far) healthy. We'll be keeping a very close eye on them over the next several weeks.
UPDATE 1/17: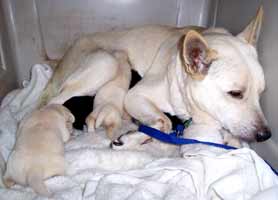 The pups are now about 2 weeks old. Their eyes are opening and they're becoming more active--not to mention they're growing like weeds.
UPDATE 1/22: We are sad to report that the only male (and the smallest) puppy in Princess' litter went to Rainbow Bridge this evening. Princess came down with kennel cough right on schedule and is passing it around to her puppies. Sadly, they're just not old enough to be able to fend off any type of illness. We are doing the best we can for Princess and her remaining 3 puppies.
UPDATE 1/28: Once again we are sad to report the loss of puppy No. 2 and puppy No. 3. We have one remaining puppy, but we are not optimistic.
UPDATE 1/29: Yet again we report the loss of a puppy. Princess' last puppy passed away last night. We're not certain if it was simply kennel cough gone into pneumonia or worse (distemper), but they're all gone now. Princess is still hanging in there.
UPDATE 2/10: Princess is still struggling to recover from an extremely severe case of kennel cough. She is finally starting to eat, and we hope that soon she will be packing on some pounds, which she desperately needs. She has attached herself to her foster mom's daughter, who takes good care of her. Princess apparently has some old habits--chewing on her legs and feet. We have decided to wrap her legs and see if we can break this habit and clear up the damage she has done to her legs.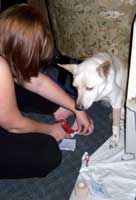 Princess sat quietly and allowed her legs to be wrapped without protest. She is obviously unused to being handled, but she does not put up any protest. There is not a mean bone in this little girl's body. We are hoping that, once she feels better, she will begin to enjoy the good life which is now hers. She is on antibiotics and taking vitamins and the best food; hopefully, this will put some life back into this girl who's been through so much.
The best that we can wish for her is a slow and steady journey back to health...a journey ending with a forever home for this most deserving girl.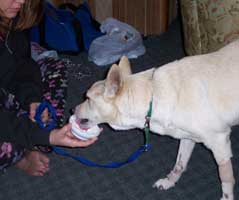 Princess is finally showing some improvement, and we are very excited. She has been taking her meds daily (she loves cream cheese!) and is slowly but surely gaining strength. Do we see a light at the end of the tunnel?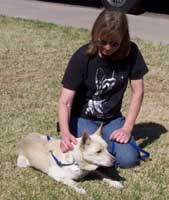 UPDATE 3/1: In an effort to bring this little girl out of her shell (and also to give Betty a "vacation" from all the large, special needs dogs she has so graciously been fostering for us), we sent Princess home with foster mom Betty this afternoon. If anyone can bring this little girl out of her shell, Betty and her pack can. We're hopeful that Princess will open up to Betty and her pack and be more comfortable with her life in general so that she can be ready for her spay surgery in the coming weeks. Hang in there, "Mommy Dog." We're all pulling for you.

Princess settles in with new foster sister Bear
UPDATE 3/6:

Princess looks like a new dog nestled in between her two new foster sisters, Bear and Gypsy
Foster Mom Betty reports that Princess is calming with with her pack around her. Her tail is rarely tucked between her legs and she wags it all the time. She is still hesitant to seek out humans for attention, but you can tell she looks longingly at her 4-legged brothers and sisters when they receive hugs and pats from Betty--she so much wants to join them, but is not quite ready. Betty reports that Princess answers to "Sunshine," and so we will be calling her that from now on. She also seems to be gaining weight.
We are looking for a foster family with another dog (or two) for our Princess Sunshine.
UPDATE 3/20: Princess was spayed today and came through surgery without any problems. She is now up-to-date on all shots, microchipped and tested NEGATIVE for heartworm, tick fever and lyme disease. She will be staying with Betty until next weekend, when she will be moved to a foster-to-adopt home! We are so excited at the possibility of a forever home for her. Please keep Princess in your prayers.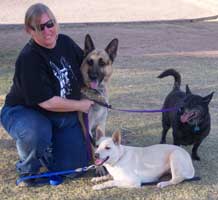 Princess (renamed "Sammy") joins Diane, Shiloh and Missy for what we hope will be a forever partnership...and it was.