This poor fellow's person went to jail for a very long time and Luke was moved to the Carrollton Texas Shelter since no one else was able to care for him. He is a sweet, gentle boy who is a bit on the large side at 82 lbs, and is about 7 years old. He has not let this experience bring down his spirits though and he is ready to get on with his life as soon as he can. He does have a bit of arthritis in one of his rear legs and is taking medication for it to relieve any discomfort for him, but this does not slow him down or dampen his spirits one bit. Luke needs a good home before 6pm Tuesday July 27 or he will be euthanized at the shelter

Thanks to our friends in Texas (Allison, Helen M and the folks at the Velvet Snout), Luke was pulled from the shelter at the 11th hour and transported to the Velvet Snout in Richardson, Texas, to await transport. Thankfully, Luke was pronounced healthy and even tested NEGATIVE for heartworm.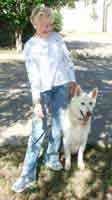 Luke and his guardian angel, Allison
UPDATE 8/10: As luck would have it, Tucker, another resident of The Velvet Snout (a lab) is headed for Arizona this coming weekend, and Luke should be able to hitch a ride to us! We are looking for a volunteer to meet the transport in Flagstaff, but what Luke really needs is a foster or foster to adopt home to go to once he arrives. Can you help?
UPDATE 8/12: Thanks to Sara, who has stepped up to offer Luke a place to call his own upon his arrival in Phoenix on Sunday. Luke's transport is confirmed for this weekend. He will be picked up in Flagstaff by two of our staff members and then transported south to his new home with Sara in Tucson. We'll have pictures of him soon.
TRANSPORT UPDATE 8/14: Luke has made it safely to Wichita Falls and is doing well.
TRANSPORT UPDATE 8/15: Luke has landed safely in Flagstaff, Arizona and has been transported to his forever home in Tucson. Mom Sara reports that he is already playing with his new sisters and giving her kisses.
ON THE ROAD
DALLAS TO WICHITA FALLS, TEXAS - THANKS, PAGE & SHEILA!!

I'm NOT getting out unless you say "please"
WICHITA FALLS TO CLARENDON, TEXAS - THANKS, MARTY!!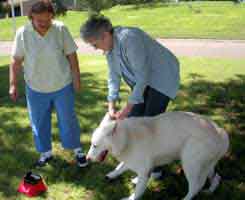 Marty on the left with Phyllis' mom, Joyce
CLARENDON TO AMARILLO - THANKS, PHYLLIS!!

Phyllis

Joyce, Phyllis' mom

Can we stop at McDonalds, please?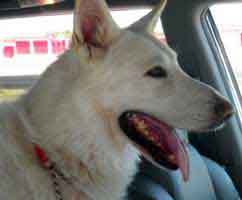 Hey! We just passed one!

Sitting back and enjoying the ride
AMARILLO TO TUCUMCARI, NEW MEXICO - THANK YOU, LYNN & HUBBY, JAY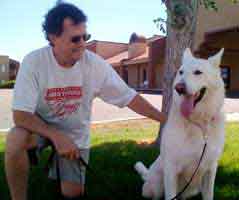 Jay poses with Luke as he and Lynn, prepare to hand-off to Tiffani
TUCUMCARI TO ALBUQUERQUE, NEW MEXICO - THANK YOU, TIFFANI

Happy boy

Weary traveler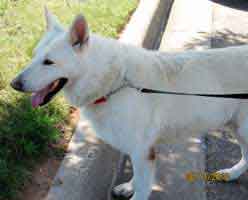 Waiting for a ride
LOS LUNAS, NM TO FLAGSTAFF, AZ - THANK YOU, TONYA, DERREL & MARK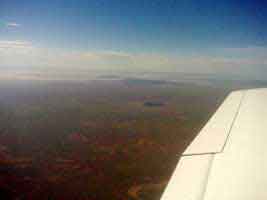 Flying high over New Mexico...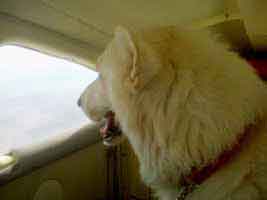 ...Luke enjoys the view from above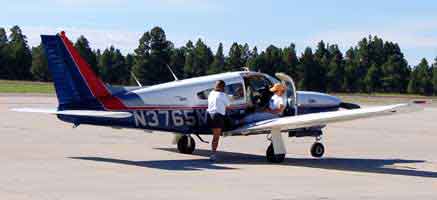 I'm not coming out until I know we're on the ground!

Our pilot offers to lend Luke a hand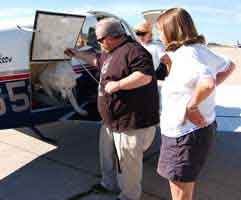 Bert is convincing...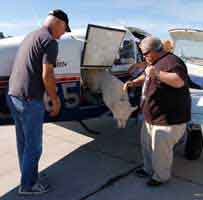 OK, here I come. Somebody catch me!!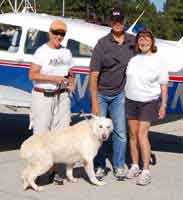 Happy to be back on terra firma
FLAGSTAFF TO FOREVER HOME IN TUCSON, AZ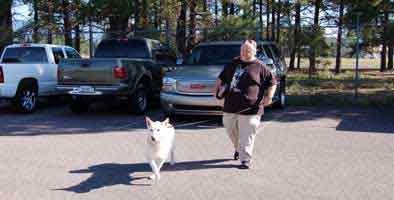 C'mon, Bert, hurry up!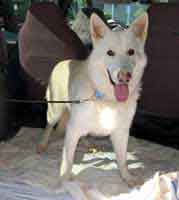 Loaded up and ready to get on the road again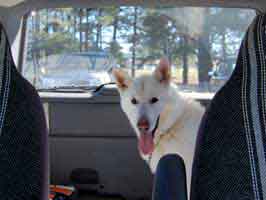 Let's go, my mom's waiting for me!
FOREVER HOME IN TUCSON, AZ

Forever Mom, Sara, touches Luke for the first time. Luke was shy at first, but it didn't take long...

...and they were off! It feels SO good to stretch my legs, says Luke.

Luke is sad for just a moment as he remembers those he left behind...

Thanks for everything, Allison, including a blanket to remember you by...

Bonding with my new mom

Doin' the "shepherd shuffle." That's definitely the spot!

Who wants to go outside?

Luke (front) with new sister Ruthy, mom Sara, and sister Kori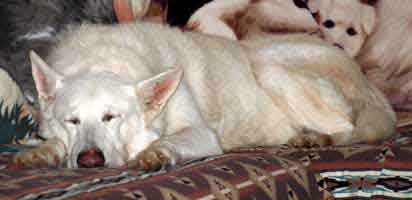 Home for good

Thanks to everyone who cared about me and helped me to get to my forever home where I will be loved for the rest of my days. I will miss all of you... Love, Luke