TRANSPORT 12/10: We left Phoenix at 7 a.m., with several California destinations plugged into our GPS unit. It was going to be a very long day...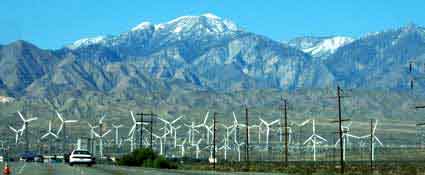 Kona was picked up first at SEAACA. Upon our arrival, they couldn't find her, and no one who knew anything about her was in -- apparently there was a holiday luncheon that day, and we just happened to arrive at the wrong time. We called Sherri (from Coastal GSD Rescue who was helping us with Kona) on the phone, and she walked us through the shelter and right to Kona's kennel...and there she was! It was then just a matter of locating her paperwork (which the person who was supposed to know and be handling the transfer to rescue had put in an unidentified "safe" place), signing on the dotted line, posing for a picture with the kind shelter worker who help us get her out of her kennel and hitting the road.

Kona is rescued from SEAACA
Our next stop was the Carson Shelter (where we had rescued the Carson Five just about a year ago) to pick up Molly. More delays when paperwork left by the person who was assisting us (Evvy) could not be located. When the paperwork was located, the shelter worker asked if we wanted someone to catch Molly and put her in our vehicle. When we looked puzzled she said, "You do know that she can be aggressive?" Well, so would YOU be if you were in her shoes! We walked out to her kennel, Bert went in and slipped a lead over her head. She tried to avoid the collar, but once she was outside, what a difference!!! She was wiggling and wagging her tail and gave kisses all around. Aggressive? We sure didn't see it, although Molly was not happy about sharing a crate with Kona, so she was loaded up in her own accommodations.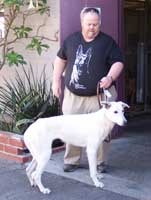 Molly leaves the Carson Shelter...she won't be looking back
Next, we headed north through downtown Los Angeles (and that lovely traffic) to pick up Bear, who was at the North Figueroa Animal Hospital where he had been neutered. Only a very short delay there as we had arrived shortly before Bear's scheduled release time of 4 p.m. A very groggy Bear was brought out to us and loaded into our vehicle, although he did stop for a brief photo opp. This boy is gorgeous!!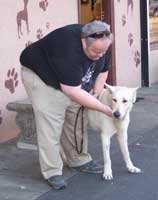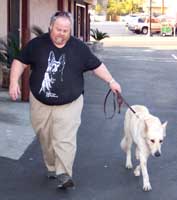 A very sleepy Bear is taken from the clinic to our waiting van for transport to Phoenix
On to our final stop, Baldwin Park Animal Shelter in northeast LA. When we arrived at 5:30, the line was all the way out the door! After a 45 minute wait, we were told that Parker had kennel cough and was not neutered as he was supposed to be. This was fine with us, as some shelters will go ahead with surgery, no matter what, and the dog suffers (usually by getting sicker). The shelter wanted to know if we had changed our minds about taking him since he wasn't neutered and was sick...NO WAY! We had come all this way, and weren't going home without our Parker! But, because he wasn't neutered, we had to adopt Parker as individuals, and pay a regular adoption fee (just under $100), which we did. And another weary canine was added to our cargo, which was definitely getting quite cramped!

It was well after dark by the time Parker was taken out of the shelter...he looked back only once
Kona, Molly, Bear and Parker were completely exhausted and rode home in relative silence, just happy to be out of the horrible placed they had just left. After an exhausting 800+ mile, 19 hour round trip, the foursome was glad to arrive at their respective foster homes and to begin their search for something that had thus far eluded them...a forever home.
UPDATE 3/09: We are happy to report that as of March 21st, all four dogs have found their forever homes.