Many dogs were being transported from the aftermath of Hurricane Ike in August, 2008, and we were asked to help with the 2 white GSDs that are among these dogs. How could we say no?

The transport route will run from Denham Springs, Lousiana, to Northern California, with dogs being met along the way by rescues who will take them into their care. We will meet the transport somewhere along I-10 in Phoenix. This is a miracle transport covering almost 2,500 miles, and we are going to play our small part.

Judy and Star were found by county officials during a drug raid. The police found them in a small pen in the back yard laying in mud, completely emaciated, with mange. Their only source of "water" was a pool of drained motor oil which they were both forced to lie in and drink from. Both dogs were barely alive when officials found them, covered in mange and motor oil (apparently the owner had been dipping them in the oil to ward off the bugs). Not far from their enclosure were 5 newly dug graves where the puppies from Judy's litter had been buried--Star was the only survivor. It took MONTHS of dedication and hard work for the Denham Springs shelter personnel to get Judy and Star to the point where they could even survive transport, and then Hurricane Ike struck. When they asked for our help, we could not say no.

UPDATE 9/15: We have heard from the shelter contact, and the transport is on!

UPDATE 9/17: The girls should be on their way to Phoenix soon!! We have just received confirmation from the shelter that they are hoping to get the girls on the road as early as next week. Please check back for updates.

UPDATE 9/21: We have received confirmation from the Denham Springs shelter (through Muttshack Animal Rescue Foundation) that the dogs will be leaving Louisiana on Wednesday. We will know shortly about the girls' anticipated arrival date in Phoenix.

UPDATE 9/24: The girls left the Louisiana shelter at 8 p.m. Central Standard time this evening. They're on their way!! Judy has a loving foster mom waiting for her in Phoenix, but Star does not. We need to find a place for her before the transport arrives, or she will be moving on to California with the remainder of the dogs. Please, we don't want to turn her away. Even a small donation so that we can keep her in boarding until a foster home opens up for her.

UPDATE 9/25: As of 2 o'clock this afternoon, the girls are about 2-1/2 hours east of the Texas border and are traveling well. We should be hearing from the transport once they can get a cell phone signal later on today.

UPDATE: We have just heard from the transport and the girls will be here at 1 AM this morning!!!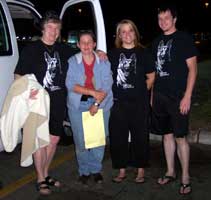 Mary (one of the transporters, second from left) is amazed that 4 volunteers from WGSDR showed up at 1 A.M. to meet the transport and help walk, potty and water ALL the dogs on board

Davey helps Lucy unload crates (that's our Judy in the upper right crate)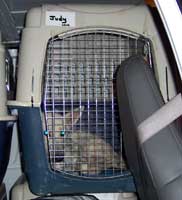 Judy

Nancy takes care of the paperwork

Katherine gets a big thank you kiss from one of the transport puppies

There was plenty of unloading to do before we could get our girls out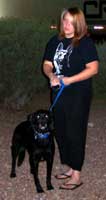 There were dogs of every size and color, although black certainly seemed to dominate
And finally we were able to get to Judy and Star

Nancy takes Judy's leash from Lucy, another of the transporters...

...and passes it off to foster mom Dorothy

Dorothy begins to work her magic on a very frightened Judy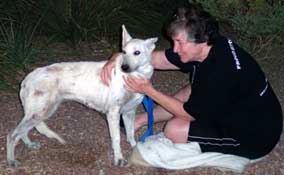 Closer...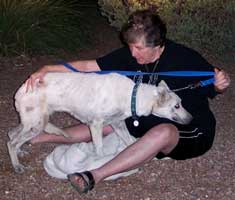 Almost there...

Success!!

Davey checks out a very happy Star

Bill, another of the transporters

Katherine lends comfort to a very frightened traveler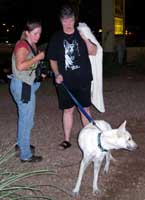 Mary shares some of Judy's sad story with Dorothy

Judy thanks Mary for safe passage

Dorothy & Star

An exhausted Judy is given a lift up into our van for the ride home

Star says, "Let's go!"

Judy and Star wait with volunteer Davey for a ride to their new foster homes
A letter was sent to us along with Judy and Star from the Director of the Denham Springs Animal Shelter, and we'd like to share it with you

To the rescue accepting my "Star Baby" and "Judy Miracle."

These are babies to me and I cry as I write. Star and Judy were rescued from a home on Judy Street (that's where her name comes from). The owners went to jail on drug charges and we were called about the pets. They had happy, healthy neutered, small breeds inside the home, and Star and Judy in the back yard. FILTHY does not begin to describe the hellhole they called home. NO food, NO water. Judy was literally bones sticking out everywhere from nursing pups. They were so mangy. I wasn't sure what color they would turn out to be. There was a swimming pool of motor oil the man was using to dip them. They were drinking it. Broken glass everywhere. There was a freshly dug grave where the other 5 puppies were buried. I held Star and cried and told her one day she would be a superstar to some family, and named her on the spot. And, frankly, Judy's very breath is a miracle, so that's what I called her, "Judy Miracle." She is full of so much love. She just hugs and hugs you. This was my first ever prosecuted case of animal neglect/abuse. They are very special to us and I thank you from the bottom of my heart for helping them on their journey to a happy ending.
Judy has a long road ahead of her. She reminds us so much of Rascal when we first took him from an abusive situation in Yuma. Coincidentally enough, we have placed Judy with the same foster mom and have high hopes that, with your support, we can provide Judy with everything she needs to get well. Foster mom Dorothy is one of the best and dedicated to giving Judy whatever she needs, especially love.

On the other hand, Star seems to be in very good condition. She is happy and outgoing and, while she gave her temporary foster home residents (the 4-footed ones) a hard time upon arrival last night, after a good night's sleep she's doing just fine with everyone. She appears to be crate trained and is settling in very nicely. Star quickly found a foster with Doug and Wendy and a forever home in very short order.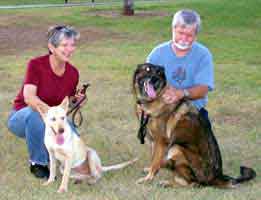 Star with Wendy, Doug and Gina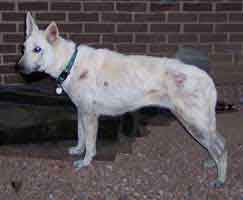 Judy's official "BEFORE" photos

Judy was moved in with Foster Mom Dorothy. She has a long road ahead of her. She reminds us so much of Rascal when we first took him from an abusive situation last year. Coincidentally enough, we have placed Judy with the same foster mom and have high hopes that, with your support, we can provide Judy with everything she needs to get well.

Judy has her first meal and takes her first steps out on the lawn at Dorothy's

Judy has had her first oatmeal bath and looks and feels better already. Foster Mom Dorothy reports that she is "wagging her tail like mad and slurping all over my face." (Judy has a long road ahead of her)


Judy's improvement is slow but sure

JUDY ONE MONTH POST-RESCUE

Judy rests in her favorite spot

Judy (foreground) takes a BIG step and joins foster sister Conner in the kitchen for dinner
UPDATE 10/27: Foster Mom Dorothy reports that, now that Judy is on the proper meds, she is feeling (and acting) much better. She is gaining weight almost daily, and her activity level is definitely increasing. She appears to be trying to live the puppyhood she probably never had.


Here Judy plays with foster sister Conner
(Judy is at rear in photo)

UPDATE 11/1:


Our girl gets more beautiful every day

UPDATE 11/6:


Judy enjoys a game of tug with her foster brother, Rascal

UPDATE 1/17: Judy continues to blossom under the care of Foster Mom Dorothy. She is actually greeting people who come to Dorothy's home and is basically enjoying life. Judy will be spayed in February and then available for adoption.

UPDATE 2/8: Judy joined us in Boot Camp today. She was a bit overwhelmed by all of the dogs and people, not to mention the wide open space of the park and the many activities that were going on, but she did warm up to several of the dogs (including daughter, Star) and almost took treats from the Treat Lady! We were very pleased with her first time out.

At right, Judy, Foster Mom Dorothy and Lynda watch as the other dogs go through their paces. At left, Dorothy and Judy were content to watch and mug for the camera, but did join in some of the weaving exercises.


Judy and Star are reunited after a 4 month separation - Star slips in a quick "kiss" for mom

Judy is scheduled for her spay surgery on February 11th. After a 2-week recovery period, she will be available for adoption.

UPDATE 3/15: Judy has been attending Boot Camp for the past several weeks. She seems to love to work and even relaxes when foster mom Dorothy is putting her through her paces in class. She is still quite timid with anyone who approaches to touch her, but we can now sometimes get her to accept treats while at class. Slow but sure progress.

Judy requires a home with an owner who is willing to accept and accommodate her special needs. She will probably never be a social butterfly, but if you're looking for a stay-at-home dog, Judy's your gal!

UPDATE 3/30: Judy got to go on a home visit today with Foster Mom Dorothy to meet potential adopter Connie.



Wow, that's the biggest "dog" I've ever seen

| | | |
| --- | --- | --- |
| Judy's a hit with Connie | | Judy's herding instinct really kicked in when the deer started to move |

HAPPY ENDINGS: Star was adopted by her forever family. Judy was adopted by her foster mom, Dorothy! Judy went on to live to the ripe old age of 15, passing away in December of 2021.

| | | |
| --- | --- | --- |
| Star and her forever family | | Judy celebrates her birthday with Dorothy in 2021 |