Jasmine came into our rescue in July 2011, after being found with two four month old puppies, wandering in the remote desert of California near Rialto (other white GSDs have since been found in that area). What we didn't know when we took Jasmine in was that she was already pregnant with her next litter.

CLICK TO READ ABOUT JASMINE'S JOURNEY TO OUR RESCUE

UPDATE 10/6: Jasmine whelped her new litter on August 8th. The pups are now fully weaned and most have gone into foster-to-adopt homes. It's now Jasmine's turn to enter "the process" in preparation for adoption. She will be spayed, microchipped and updated on shots as necessary.

UPDATE 10/18: Jasmine had her post-puppy checkup at the vet today. She weighed in at a svelte 80 pounds and checked negative for worms and parasites. She was updated on all shots, and the vet pronounced her fit for spay surgery, which is scheduled in 2 weeks.
| | |
| --- | --- |
| Jasmine greets Candice at the front desk | A nail clipping courtesy of Alvin |
| Doc gives Jasmine the once-over | Candice and Garrett wish Jasmine well |
After her checkup, Jasmine was checked in to Pete & Mac's for 2 weeks of pampering before her spay surgery the first week in November.
Jasmine is an easy keeper who wants nothing more than a comfortable place to lay her head -- and she deserves it!
UPDATE 11/3: Jasmine had her spay surgery today -- NO MORE PUPPIES FOR THIS GIRL!. She will be given a chance to rest for a few days and will then begin the search for her forever family. After what she's been through, and the wonderful mama she's been to all her beautiful puppies, this girl deserves a forever home of her own. Could that home be yours?
UPDATE 1/22: Jasmine continues her search for a forever home. She is doing well at her foster home and is turning out to be quite a character -- she definitely has a sense of humor. At times when her foster mom calls her to come inside, she will stand just out of reach and put her paw out to shake or give a "high five." But, bring out a cookie and she's yours in a nanosecond.
JASMINE TODAY: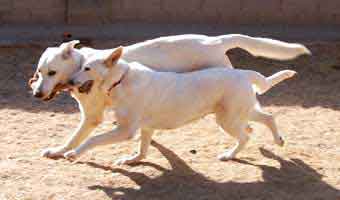 At center with rope-toy-buddy Huey
UPDATE 2/8: It's been a long time coming, but six months to the day of giving birth to her litter of puppies, Jasmine has moved into a foster (possibly an adoptive) home! We are thrilled beyond words for her. She's taken care of all of her puppies and seen them all leave for homes of their own, and now it's finally her turn.

Play ball!
FOSTER UPDATE 2/11: "We are doing great! Jasmine is so sweet we already love her! She is very calm and mellow. She has gotten along with all of us, she follows the boys around the back yard and snoops around in Mike's shop. She has barked at Mike a couple of times but calms down quickly. Once was when he was running around the house waving his arms, making fun of me so I thought maybe she was just sticking up for me :). The only problems we have had have been very small. She can overpower Mason easily to take his food and get out the front door. We are working with Mason to teach him not to open the door and we are working with Jasmine to not take the food. What can I say...she is so easy! Mike thinks she is missing you cuz she lays around all the time. Every day she interacts more and more with us and she rarely goes in her crate. Send us any thoughts but so far so good and we love her!"
FOSTER UPDATE 2/20: "Jasmine is great! She is such a cuddle bug. She try's to sleep with my boys at night and when I finally make her get out of their bed she settles in my bed. Then my husband and I snuggle with her until it's time to go to sleep. She is getting really good at catching balls cuz my boys play with her every day. She has settled in well!"
UPDATE FEBRUARY 2012:

Jasmine was adopted by her (foster) forever family!