Angel (blue collar) and Crystal (red collar) are 8 years and 4 years old, respectively. They have each been owned by the same loving owner since early puppyhood. Unfortunately, that owner has recently passed away, leaving Angel and Crystal without a home to call their own.

<!IMG SRC="images/MomsAngel-2.jpg" HEIGHT="225" WIDTH="187" BORDER="2">
<!IMG SRC="images/MomsAngel-4.jpg" HEIGHT="225" WIDTH="229" BORDER="0">

Crystal (left) and Angel
They are currently being cared for by family friends, and will be brought to the Phoenix area in search of their forever homes as soon as transport can be arranged for them. They can be adopted together or separately if necessary.
The girls are friendly and outgoing on their home turf. Again, due to their owner's immobility, they have not been taken off their own property very much and will need socialization to round out their personalities.
The girls love to ride in the car, with their favorite destination being Dairy Queen. They will be updated on shots as needed and spayed upon their arrival in Phoenix.
This is going to be a huge adjustment for the girls -- one that is regrettably unavoidable. But we will be doing our best to ensure that they receive the best care possible.
UPDATE 10/14: The girls' transport has been posted for this coming weekend. We are praying it fills and that the girls will be on their way to us soon.
UPDATE 10/18: The girls' bags are packed and they are ready to begin their journey to Phoenix. We will be receiving updates and (hopefully) photos of the girls' trip from Minneapolis to Kansas City -- just the first part of a very long journey -- so please check back.
Saturday, October 19 ~ Leg 1 COMPLETED!
Roseville, MN to Owatonna, MN
1 hour 10 minutes ~ 66 miles
8:00am to 9:10am
Filled. Thank you, Vicki
Leg 5 COMPLETED!
Bethany, MO to Kansas City, MO
1 hour 25 minutes ~ 90 miles
2:10pm to 3:35pm
Filled. Thank you, Sheila
Leg 2 COMPLETED!
Owatonna, MN to Clear Lake, IA
1 hour 5 minutes ~ 88 miles
9:20am to 10:25am
Filled. Thank you, Vicki
SATURDAY TO WEDNESDAY WITH WINDING RIVER IN KANSAS CITY
Thank you, Winding River
Leg 3 COMPLETED!
Clear Lake, IA to Des Moines, IA
1 hour 40 minutes ~ 113 miles
10:35am to 12:15pm
Filled. Thank you, Joyce & Jeff
Wednesday, October 23 ~ Leg 6 COMPLETED!
Kansas City, MO to Denver, CO
615 miles
Filled. Thank you, CARE
Leg 4 COMPLETED!
Des Moines, IA to Bethany, MO
1 hours 35 minutes ~ 104 miles
12:25am to 2pm
Filled. Thank you, Sheila
WEDNESDAY UNTIL TRANSPORT TO PHOENIX WITH SNOWCAPPED GSD RESCUE IN COLORADO
Thank you, Michelle
TRANSPORT UPDATE 10/19 6am: A call from the "hand-off" person told us that Crystal and Angel are on the road. According to Katrina: " Vicki (the first leg driver) plans on taking them to a DQ drive through on the way to Clear Lake. But she expects to be in Clear Lake on time."
TRANSPORT UPDATE 10/19 8:38am: "The girls are with Joyce and Jeff and headed to Des Moines. They are traveling great."
TRANSPORT UPDATE 10/19 10:41am: "The girls are w Sheila and headed to KC, mo. They are kissers and Sheila is getting a late morning face wash."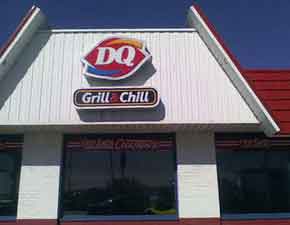 Stopped at the DQ - Waiting at the window for our order - Sleeping off our ice cream cones
The girls ate their ice cream cones so fast I didn't get pics. You didn't warn me that Crystal gives kisses (smiles).

Kansas City bound
TRANSPORT UPDATE 10/19 3:01pm: "The girls have been delivered to Winding River (in Kansas City). Angel and Crystal will jump on the CARE van on Wednesday. They will go to Littleton, CO to Snow Capped Shepherd Rescue and then, when Nancy and Michelle have time to move the girls again, they will head to Phoenix. This transport is complete."
We are uncertain as yet how the girls will travel from Colorado to Phoenix (a distance of over 600 miles) or when. If we are unable to secure a volunteer pilot, Staff members from SnowCapped and White GSD Rescue will be driving to New Mexico to meet and bring the girls to Phoenix.
UPDATE 10/21: Thanks to Pilots N Paws, it looks like the girls may have a flight from Denver to Phoenix this coming weekend! We are waiting to see what the weather holds.
UPDATE 10/22: It looks like we have two pilots! Miguel (from Denver to Albuquerque) and Dan (from Albuquerque to Phoenix). An Albuquerque newspaper is doing an article on Dan and Pilots N Paws and is planning on meeting the girls' departure flight out of Albuquerque. Hopefully we will be able to add their article and photos to Crystal and Angel's bio page.
UPDATE 10/23: We received word from Michelle at Snow Capped Shepherd Rescue that the girls arrived safely in Colorado late this afternoon. They will be in boarding at Michelle's vet's office until their transport to Phoenix.
On another unhappier note, our first leg Saturday pilot has CANCELLED on us. We are still hoping to find a pilot to bring the girls on home.
UPDATE 10/25: An early morning email from Michelle at Snow Capped told us that the girls HAVE A PILOT!! We are back on track for transport this weekend. Stay tuned for details.

Saturday, October 26 ~ Leg 1 COMPLETED!
7:30am - Delivery of Dogs to Denver Airport
Littleton, CO to Denver, CO
Michelle,Snow Capped Shepherd Rescue
Thank you, Michelle!
OVERNIGHT IN ALBUQUERQUE COMPLETED!
Dave Sarver, Erkka Tommola and 9 mutts runnin' amuck @ Dave's Digz for Waywerd Dawgs, high in the Manzano Mountains of New Mexico
Thank you, Dave!
Leg 2 COMPLETED!
Flight from Denver, CO to Albuquerque, NM
(Double Eagle - AEG)
8:00am - 10:00am
Thank you, Jason!
Sunday, October 27 ~ Leg 4 COMPLETED! <!COMPLETED!>
8:00am - Delivery of dogs to Airport
Double Eagle II
Tijeras, NM to Albuquerque, NM
Thank you, Dave!
Leg 3 COMPLETED!
10am - Pickup of dogs in Albuquerque, NM
Double Eagle II Airport
Albuquerque, NM to Tijeras, NM
Thank you, Dave!
Leg 5 COMPLETED!
Albuquerque, NM to Phoenix, AZ
Williams Gateway in Mesa, AZ
9:00am to 11:20am
Thank you, Dan!
Pick up at Angel and Crystal's final destination (Williams Gateway Airport in Mesa) will be handled by staff members of White German Shepherd Rescue <!COMPLETED!>
TRANSPORT UPDATE 10/26 7:30a: The girls are "WHEELS UP" at Denver airport.<!CENTER><!A HREF="https://www.facebook.com/photo.php?v=10202224229031495&l=8999966044559941860" TARGET="_BLANK"><!B><!CLICK TO SEE TAKE-OFF VIDEO><!/A><!/B>
UPDATE REPORT FROM DAVE IN ALBUQUERQUE: "Both dog ARE very nervous and yes Crytal IS going into season. So far, all is well and they are tolerating the pack here."
| | |
| --- | --- |
| The girls touch down in Albuquerque | Zia helps pilot Jason unload his precious cargo |
| Crystal's on the ground, Angel is next | You don't expect us to ride in that thing, do you? |
| Leaving the terminal in Albuquerque | Wondering... |
| Dave's Place | The girls explore their temporary home - Thanks, Dave! |
The girls are taking the transport like champs, but they are understandably reaching the end of their tolerance levels. Their former mom would be so proud of them--the distance they've traveled, the many hands that they've passed through, not to mention the different modes of transportation. She would be very proud.

Loading up in Albuquerque with Dan & Zia
TRANSPORT UPDATE 10/27 8:00a: The girls are "Wheels Up" in Albuquerque!

Safe on solid ground again
TRANSPORT UPDATE 10/27 11:30a: The girls have arrived safe and sound at Phoenix-Mesa Gateway Airport. Two of our staff members were there to welcome them.
&nbsp

&nbsp

Once on the ground, the girls were anxious to get off of the tarmac and into the terminal

Waiting in the terminal for the paperwork to be finished

Dan & Zia bid the girls farewell

On their way to forever
READ ABOUT CRYSTAL & ANGEL'S EXPERIENCE WITH PILOTS N PAWS
UPDATE 10/27: The girls are settled in to their temporary foster home with one of our staff members in Phoenix. Crystal is definitely in season, which means that Angel won't be far behind. Our plan is to schedule their spay surgeries as soon as possible in preparation for adoption. Both girls have been updated on shots, are heartworm negative and microchipped.
A wonderful person by the name of Chriss has stepped up for the girls! She read their story and couldn't bear the thought of them being separated. So, if all goes well, she would like to foster THEN ADOPT THEM BOTH! The girls have lost so much already; we are beyond grateful that they will not have to lose each other.
UPDATE 10/28: The girls had their first outing today -- a trip to a potential foster/adopter's Chriss' home AND, after that, DAIRY QUEEN!!!

Angel asks, could you be our new mom?

Chriss seems to be a good fit for the girls

DQ! Yummy!!
UPDATE 11/1: Angel and Crystal moved in with their new mom, Chriss, today.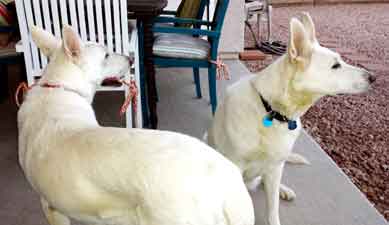 Crystal and Angel's first morning at their new foster home was spent bird watching in the yard

Angel (left) and Crystal's foster mom reports that all is well
UPDATE 12/5: Crystal had her spay surgery on Monday, followed by Angel today. Both girls will be recovering at their foster home and were immediately adopted by Chriss!