Another of our dogs, Sapphire, is "drafted" into service by Soldier's Best Friend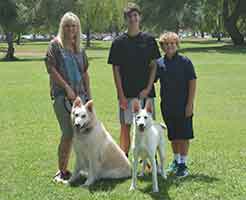 Cyndie (at right) joins Takoda (adopted in 2021) in her new forever home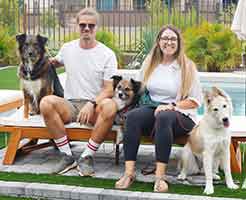 Once again, we are reminded that it does take a village ~ Remi was found on the streets by Melyssa and Patrick and adopted by Lauren and Miro

Now retired from service, Rocky sets up housekeeping with new adopter Domenic and a fursister Gia to boot!

Ginger heads off to Kingman with her new mom and dad and furbrother Yogi (formerly "Brando," adopted in 2020)

It truly takes a village as Houston is accepted into the program at Soldier's Best Friend ~ Houston doesn't forget to thank Blake of SBF for his good evaluation

Snow took a little longer than his sister, Izzy, to find his forever family ~ it was really tough for us to let him go!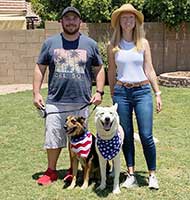 Maverick smiles for the camera with his new forever family ~ Travis, Taylor and fursister Kaya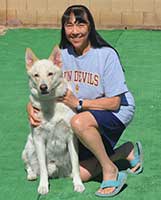 After losing her companion of 11 years, Susan was looking for a new furbaby and she found it in Laredo (formerly "Simon Draco")

Found on the streets by a good Samaritan, Lolita soon found forever with Vince and Tracy ~ Hemi rounds out the family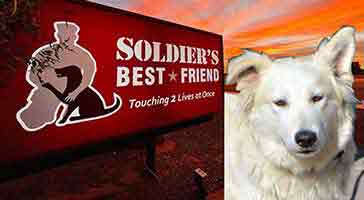 From an unwanted stray at a California kill shelter to a service dog for a veteran ~ who could ask for anything more? Not our Bishop!

Why we do what we do: Bishop and his veteran on Channel 12 News

Stormy (center) joins her new family alongside sister Yuki (at left, adopted in 2018) and brother Rocky (at right, adopted in 2017) ~ we don't often place a third dog into a home; however, we can make an exception for the right home and the right dog(s)! Stormy made herself right at home and tried out the pool within hours.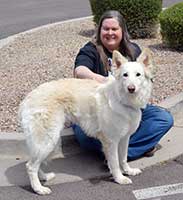 Sara takes home her 15th dog adopted from White GSD Rescue, starting with Oso in 2004 ~ Izzy is in very good company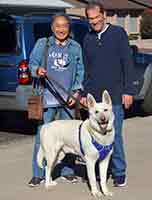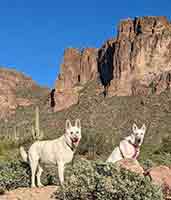 Rex takes up residence at the foot of the Superstitions with adopters Gregg and Yumi and fursister Bailey (formerly Roxy adopted in 2016)

Louise is the first of the Thelma & Louise pair to find her forever home with prior adopter Kerry (with Bo [formerly "Albert"] adopted in 2018) and Chris

Little Patty begins her new life in San Tan Valley with new mom, Eve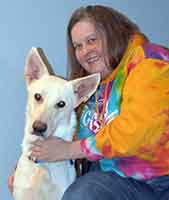 From a homeless, wandering stray in Phoenix to a loving adopter in Tucson, Buddy has found his way home

Tim and his sons, Matthew and Presley, drove in from New Mexico to adopt our personality boy, Teddy (Zeus II)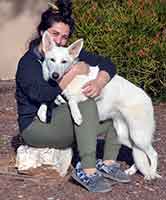 No longer an unwanted owner surrender, Paloma is going to be living the good life with Caitlin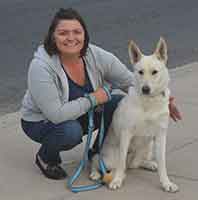 Sienna heads north to live "off the grid" with new mom, Leah Ann

Mai Tai is one lucky little girl to find her forever family with 3 kids to play with!

Flanked by his fosters (far right and left), Bronson has found his forever home with the Hernandez family in Surprise

Buttercup (aka "Tequila") heads off to Benson with her new family

Lucas transported Guava from California on his first volunteer transport for WGSDR and decided he had to add her to his family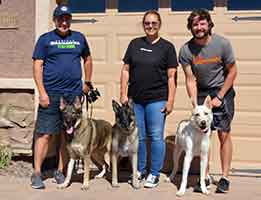 It was a family affair when Jeff & Kelly added Zeus (aka "Z") to their household

Sunshine hit the jackpot as she poses with her new family ~ (left to right) Austin, Kenzie, Tonya, Ian, Aiden and Flint

Ken and Anne drove in from NM to add Pauly to the fold alongside Maggie (R) and Keesha (formerly Mindy, adopted in 2017)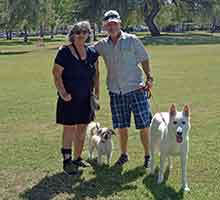 Greg and Shelley came back for their third WGSDR boy ~ Ruff!

After a very rough beginning (coming from a hoarding situation), Polo hit the jackpot with Erika and Andy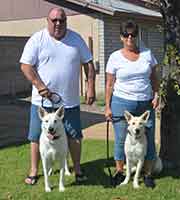 Lauren and Jeff add their 5th WGSDR rescue furkid with the addition of Biscotti (aka "Scotty") ~ Cassie (adopted in 2020) is at left

Roscoe (at left - adopted in 2018) welcomes Goldie into his family

It was love at first sight when Joy and Graham met Jessica ~ we think she agrees!

Sandra and Adam came back for their third WGSDR rescue dog ~ Capri! Bolt (now Kenzie, adopted in 2019) is at left with mom.

Andrea saw Trudy on our website and knew that she was the one to complete her family ~ swimming lessons are the first order of business!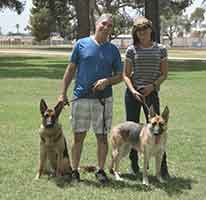 RAEGAN (standing) not only found forever, it included a playmate in the form of a baby brother

Greg sends his thanks out to everyone who helped him find his forever home with Matt, Avonelle, Pepper (the GSD) and Tom (the cat)

Beth was going to wait until after the Fourth of July to adopt, but Gemma changed her mind with just one look

Wounded in Afghanistan, Tom needed a service dog to help him get through each day ~ he chose Solo to be his on the spot!

We knew it wouldn't take sweet Lucy long to find her forever family, and we were right!

The entire Globe crew (standing left to right fosters Dave & Jackie / transporters Bob & Michael) got together to send Rocco off to his new home with Kate & Andy in Colorado

Sara came all the way from California to join her new family in Ahwatukee ~ we just have to get the resident cat to agree and she's all set!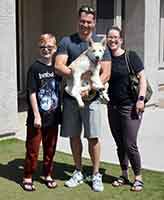 What more could a puppy ask for but a loving family of his own that includes an 11 year old boy? Atta boy, Chance!

Chalo is going to join Betty on the road!

Nicole wanted a gal who could keep up with her 18 month old husky, and Thelma fit the bill perfectly

After a very successful evaluation by trainer Lynn, Ryder was accepted into the Soldier's Best Friend program

After their loss of Marley (formerly "Go-Go" adopted in 2009) Steve & Gabriela couldn't resist Lionel's charms and added him to the family

After losing Sally (adopted in 2010), Macky wanted us to find the perfect next dog for him ~ we knew Winter was the right choice the moment we got her

It took Torrey a while, but thanks to foster mom Wendy, she finally found her home with past adopters, the Whitmans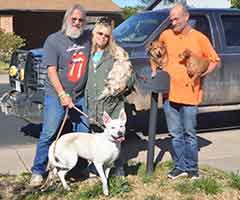 After adopting a dog from us in 2003, Jim (at left) knew just the place to go for another wonderful dog -- Cyndi!

Ghost's homeless days are a thing of the past as he heads off with new adopter, Air Force vet Zach (center)

The third time's the charm for our boy Blitz as he settles in to Peoria with Marc, Jodi & Kennedi

Phoebe and Raegan came in together, but it's Phoebe who found her forever family first with Rich and Ellen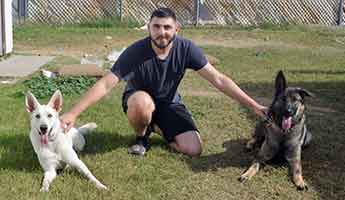 Josh didn't let a little thing like Freya being described as a "wild child" deter him from adopting her ~ he'd already raised one in furbrother Oso

GRETA & HER ADORING NEW PARENTS

Our big lug Noah found himself a forever home for Christmas with mom, Tamara, and fursister, Ginger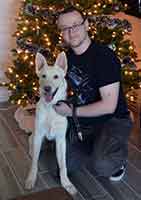 Ghost's Christmas wish came true this morning ~ he has a new dad, Army veteran Steve!!

Kane is now a member of a military family and is going to be kept very busy by a stay-at-home mom and two young boys to play with

Sweet Benny found his forever home with prior adopters Samantha and Alfred, who adopted Simon from us back in 2012

Bear found his forever family with Denise & Ray and fursister, "BB"

Prior adopters Deb and Jake drove all the way from Wyoming with Iggy (formerly River adopted in 2015) to add River (now Opal, at left) to their family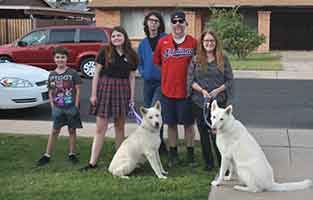 Frankie (at left) joins her new family and is delighted to find she has a new furbrother, Journey (adopted from WGSDR in 2015)

Sooner was immediately smitten with new mom Gail; we think the feeling is mutual

Another WGSDR dog, Mando, has been accepted into the Soldier's Best Friend program ~ he has already been paired with a veteran and will begin training in late July ~ Mando's placement with SBF was sponsored by adopters/supporters Jim & Terri Brown

Jim, Opal (Adopted from WGSDR in 2015) and Ann welcome Symeron
to beautiful Hannah's Hill Vineyards in Sonoita, AZ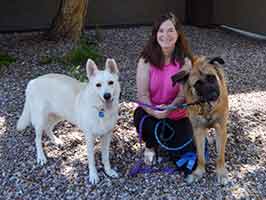 We found the perfect home for Tiva with a male Leonberger that likes to roughhouse as much as she does!

The fun has already started as far as Sydney's concerned as she heads off to Show Low with her new family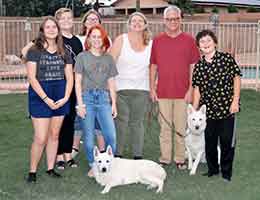 North has finally found his forever home with the Coveys, who fostered North then decided they couldn't live without him ~ Ella (adopted from WGSDR in 2009) agrees

Our thanks to out to HARTT, particularly Shelli (pictured holding Walter's leash) for saving Walter and helping us find him a forever home with Jen and Spencer

We thought Raylene was destined to be an "only child," but she proved us all wrong

Chriss welcomes Scout and Ruby as the 4th and 5th dogs she's adopted from WGSDR
See Chriss' Memorial

LISA GRETEL & CARL-SMILES ALL AROUND & HAS DAD WRAPPED AROUND HER PAWS

Scott and Amy knew that Nala was the perfect dog to add to their family

No longer able to fit on her mom's lap, Ally (our very sick parvo puppy) has grown to almost 60 pounds and has been adopted by her foster mom, Sara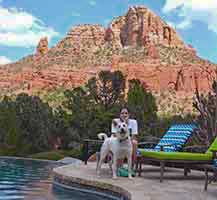 It took Blanca a little longer than her daughter (Skye) to find her forever home, but she sure did -- in beautiful Sedona!

Jeff spotted Juniper on our website and knew he was the right one for their family ~ Janine agrees!