HAMPSHIRE (a lab retriever mix) AND BUDDY AND BEAU (Brussels Griffon)
Traveling from Lafayette, Louisiana to Laytonville,California


Hampshire is unloaded by John of Tundra Wolfdog Rescue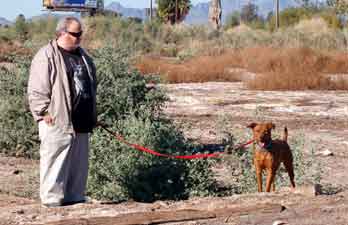 Everyone gets to stretch their legs in Blythe...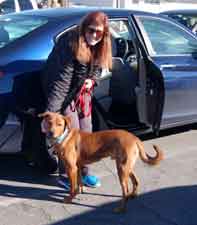 ...before heading off to forever with Anne
ONE BULLMASTIFF FROM PHOENIX TO CALIFORNIA

| | | |
| --- | --- | --- |
| Bullmastiff Emma is picked up from Dawn in Phoenix | Emma arrives in California and spends some chill time with Bert... | ...before being picked up by Maryjane |
ONE BORDER COLLIE, ONE AUSSIE & 3 AUSSIE PUPS FROM CORDES JUNCTION TO PHOENIX


Theresa and Hercules
Two of our staff members picked up "Hercules," a border collie mix that was needing a ride from Arizona Border Collie Rescue to his foster home with Rhonda in Flagstaff, from Theresa in Cave Creek

Bert makes sure that Hercules is secure in his crate for the journey north

Arrival at Cordes Junction for transfer to Linda to continue his trip to Flagstaff

Linda and Hush Puppy / Bert with Pups
In Cordes Junction, we met Linda and picked up Hush puppy, an 11 year old Australian shepherd coming from Alexandria, Louisiana, on his way to Tucson, and three 7-week old mini Aussie puppies from Dallas going to Amazing Aussies Lethal White Rescue of Arizona in Mesa

It just doesn't get any cuter than this

Hush Puppy arrives in Phoenix, where he is met by Maureen for the last leg of his journey to Tucson

The three babies were met with open arms by Terry
TWO HOUNDS FROM SEDONA TO PHOENIX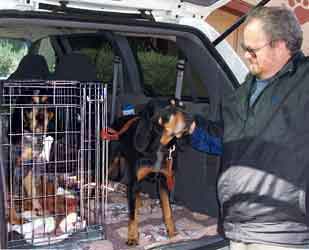 Ty (a Bluetick Hound) and Julia (a Black & Tan Coonhound) are on their way from the Sedona Humane Society to their forever homes in San Diego, with a little helping hand from the volunteers of White German Shepherd Rescue.
TWO SCHIPPERKES FROM PHOENIX TO MARYLAND


One of our staff members helped 2 schipperkes, Rico and Blackberry, get to their new home with Mark and Terri on the east coast by transporting them from Phoenix all the way to Maryland!
ONE POODLE FROM PRESCOTT TO TO PHOENIX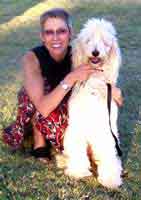 Bert & Nancy helped transport a surrendered poodle named Jessie from Prescott to her foster mom, Deb, in Phoenix.