On March 31st, two of our evaluators went to AC&C to meet Bailey. She was very sad and lonely and would not come to the front of her cage when called. In fact, she barely acknowledged us at all. The shelter worker went into her run and even crawled outside through the doggie door to lasso Bailey and bring her out to us. When she saw there were actually people there to see HER, Bailey started wagging her tail. Her eyes brightened up. She was so happy to have someone petting her. We hated to see that look of bewilderment in her eyes when she was returned to her run, but she was wearing a yellow "I'VE BEEN ADOPTED" collar so hopefully she understood that we would return for her.

We kept our promise and returned to the shelter on the 1st. Unfortunately, Bailey had to be spayed that morning and did not take the surgery well. She was very disoriented from the anesthesia and now would not allow anyone to touch her -- can't say as I blame her!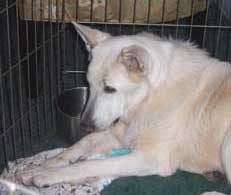 UPDATE 4/2: Bailey has been safely tucked away in a nest of her own in her foster mom's office. She is still refusing to take her medication, but is getting it nonetheless (or at least most of it). The usual kennel cough seems to be setting in, but that comes as no surprise from a dog coming out of a shelter. So, we're treating Bailey for the cough and loving her up as much as she'll allow. She sleeps most of the time. We're going to give her more time to feel better before we do much of anything with or to her. She's safe, and that's what's most important.
UPDATE 4/7: As we anticipated, kennel cough has set in. Poor Bailey. A dog in her condition certainly doesn't need any more to handle. Just like a cold in humans, kennel cough needs to run its course, so we're making her as comfortable as possible. Her hot spot is almost completely healed and her hair is growing back to cover. She is still not eating, but is drinking Pedialyte and getting daily injections of Vitamin B and antibiotics, so we're still hoping for the best. Thanks to some financial help from a wonderful sponsor, a visit to the vet and a full blood panel is on Bailey's agenda before the end of the week.
UPDATE 4/9: Bailey saw the vet today. She was calm, quiet and wagging her tail until they tried to take blood. Don't know where all that energy came from! She is definitely under the weather, but we won't know what's causing her problems until we have the results of the extensive blood work in a few days. In the meantime, the vet has changed her antibiotics and given us specific instructions for her care. She was given a cortizone shot, which seems to be making her feel a lot better.
UPDATE 4/10: Bailey is feeling MUCH better today and ate her first meal in over a week! We are so excited and hopeful for her speedy recovery!! Please watch for updates on Bailey's recovery. C'mon Bailey! Don't you want to go shopping at PetsMart? Aunt Melissa would sure love to take you.
UPDATE 4/13: The preliminary results of Bailey's bloodwork are in. She is negative for heartworm, but positive for tick fever and valley fever. The titers and low on both, and we are waiting to see what our vet has to say as to a course of action. Bailey herself seems to be feeling better. Her kennel cough is responding to the antibiotic injections and she started eating again, after refusing to eat yesterday. She has been cleaning herself almost non-stop today -- a very good sign. We're hoping that she will soon be ready for a trip to Millie's for a real grooming. Please continue to keep Bailey in your thoughts and prayers. She is becoming more outgoing and actually looking for her foster mom's touch, but she is still somewhat fearful and cries out when she feels herself overwhelmed. This girl has been badly abused, but we're going to teach her love with a gentle touch.
Our vet has finally come up with a plan of treatment for Bailey. We will be continuing her on antibiotic injections for another week, then putting her on medication for both the tick fever and the valley fever, followed up by bloodwork and x-rays to determine her progress. Any of you who have ever treated for valley fever know that this is a very expensive and sometimes lengthy endeavor, but we have high hopes for Bailey's prognosis.
UPDATE 4/19: Bailey is having a rough time of it. She is once again refusing to eat. Her upper respiratory infection seems to have taken hold once again, and so we have continued her antibiotic injection therapy and have added some new oral medications as well. She is still drinking Pedialyte, but is refusing to eat on her own. We have been able to feed her yogurt (with some oral meds mixed in for her) so we have not given up the fight as yet and neither has Bailey. She's obviously not feeling well, but she is still wagging her tail and her eyes are bright.
UPDATE 4/21: Bailey saw a new vet today. After an exam, x-rays, a repeat of her extensive bloodwork and an injection for tick fever, Bailey was sent home with two new medications. Pending the results of the bloodwork, which we should have by the end of the week, Bailey will be put on medication for valley fever and receive another injection. The vet has high hopes for Bailey's recovery. Her x-rays did not show any involvement of the bones (valley fever) and her lungs were clear. She has, however, lost about 4 pounds. (The vet estimated Bailey's age to be about 4, so she's younger than we had originally been told.)
This poor girl has been through so much. Were it not for the generosity of "Bailey's Angels," the level of care that Bailey is requiring would not be possible. Sincere and grateful thanks to our angels from all of us. A few more benevolent folks, along with more foster families, would enable us to save many more special fur kids.
UPDATE 4/26: Even though Bailey has had a tough week, she was up this morning and smiling, as you can see from this picture, but is still very tired. She seems to be responding to the new medications given her last week, and is now eating more regularly and even taking her meds "hidden" inside a hot dog rather than crushed into yogurt. Now that her URI has improved dramatically, she is allowing her head to be touched without protest. That's the good news. The bad news is that she is limping on her right rear leg, and the leg has become swollen and tender to the touch. The titer on her valley fever came back this morning, showing a 1:4 titer (the same as before). Our vet is encouraged that she is showing improvement, so we've decided to start her on valley fever medication and recheck her bloodwork and progress in 2 weeks. C'mon Bailey!!
UPDATE 5/4: This has been a week of slow but steady improvement for Bailey. The swelling in her leg is going down and she's finally beginning to put some weight on it again. She is still weak and likes to stay close to her "nest" in her foster mom's office, but is starting to venture out more and more when there's a hot dog to be found in someone's hand. All you have to do is look at her or say her name, and her tail is wagging. She's even barking at the cat when she comes in to see what's going on. At this time we are very encouraged. The vet believes, due to Bailey's marked improvement on the new antibiotics and the second low titer reading, that valley fever may not be a major factor. We are going to hold off on any additional bloodwork until Bailey has finished all of her antibiotics and the 30 day course of valley fever medication. There's still a long way back to health and fitness for this girl, but at least she's finally on the right road and heading in the right direction. Bailey says, "Thanks for all of your support, emails, thoughts and prayers." They've certainly made a difference to this very special gal.
FINAL UPDATE 5/9: Despite all our extensive efforts on her behalf, Bailey took a sudden turn for the worse and died peacefully in her "nest," hearing her foster mom calling her name on Mother's Day Sunday, May 9th. Our profound thanks for everyone's support (both financial and emotional) which enabled us to do the best medically for her and to gave Bailey a safe and caring environment to live out her days. She passed away knowing she was cared about and loved.
So that Bailey's indomitable spirit may endure in the form of helping others, we have established the BAILEY MEMORIAL FUND. Donations earmarked for this fund will be used exclusively for our rescues' medical care.
Donations to the Bailey Memorial Fund may be made via checks made payable to White GSD Rescue and mailed to:
White GSD Rescue
2807 W Michelle Drive
Phoenix, AZ 85053-1732
(this is a mailing address only..no dogs at this address)


If you would like a tax receipt for your donation, please make your check payable to C.A.B.R.A. and mail to:
C.A.B.R.A.
c/o Bill Ferrell, Treasurer
116 Pioneer Street
Gilbert, AZ 85233



Please note on your check "For White GSD Rescue - Bailey's Fund"

MANY THANKS to everyone who cared.

For more information, Email Nancy at WhiteGSDRescue@aol.com